Al Jourgensen of Ministry and Joe Elliot of Def Leppard Are Making a Movie
Oh, and Joey Santiago of the Pixies is involved, too.  I quote:
The Bridge is a Rock & Roll feature film about the rise of small town music prodigy, Luke Weaver, who faces the decision to choose life or continue down his steadfast path to self- destruction. Suffocating in small town monotony, and going nowhere fast, Luke watches his hometown band – and life as he knows it – crumble, when his best friend and bandmate decides to moves on.  No future in sight, Luke's despair plunges even deeper with the return of his Ex who brings unexpected complications.
Desperate, he turns to the only person he has left, his best friend's girlfriend.  With shadows from his past weighing him down, Luke embarks on a quest that will change his life, and his music, forever.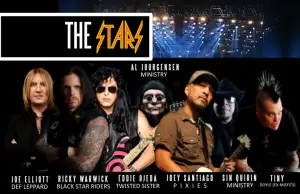 They're raising money right now with an Indiegogo campaign.
Thanks to Brent for the tip.