All those musicians behind the songs are coming for their fair share of the credit
Back in the day, all it took for someone to write a hip song was someone like Paul McCartney or John Lennon, working either separately or together. Today, though, modern pop, hip-hop songs often employ the services of a dozen or more people: songwriters, lyricists, topline melody creators, beat-makers, producers.
Here's a screenshot of the credits for Drake's Scorpion album.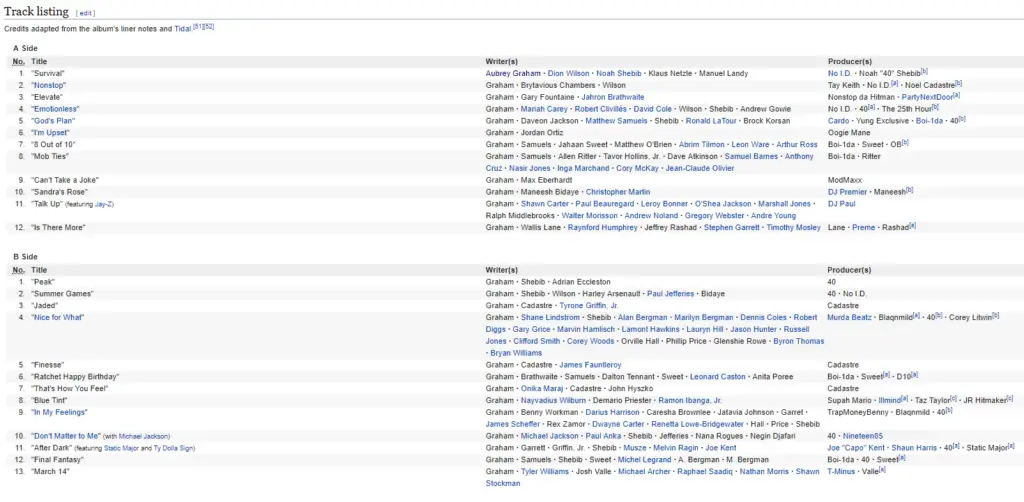 This brings me to an article in Complex about the musicians who help create these monster records. They now want some credit.
Who made the beat for "Bad and Boujee"? It should be a simple question. Most rap fans (and media outlets) would answer, without hesitation, Metro Boomin. But that's not the full story. The songwriting credits list a Robert Mandell, better known as G Koop. And that leads us to a not-very-well-known side of how hip-hop works.
Koop is a musician who has worked on tracks for the biggest names in the business. 2 Chainz, Future, Migos, DJ Khaled, 21 Savage, Meek Mill, and more have all relied on his tunes. So why don't you hear his name everywhere?
It's because Koop is part of a new breed of musicians and composers, many of them managed by the same veteran Shady Records exec, who have quietly played a major part in creating the biggest records of recent years—and now they're coming for their credit.