An Appreciation of David Bowie's The Rise and Fall of Ziggy Stardust and The Spiders from Mars
David Bowie continues to fascinate and bewitch even though he essentially dropped out of sight more than a decade ago. Yet our strange fascination with him continues unabated and new generations continue to discover his genius.
Now that he's entered his 70th year–his 69th birthday was January 8–here's a special appreciation of one of his most enduring records, The Rise and Fall of Ziggy Stardust and the Spiders from Mars, first released on June 16, 1972.
Putting Ziggy in Context
Bowie struggled to break through for more a decade, trying all kinds of different styles of music. He thought acting might be something he could do. He took lessons on how to be a mime from a guy named Lindsey Kemp. He even earned extra money by appearing in a TV commercial for ice cream–which, by the way, was directed by Ridley Scott. Yes, that Ridley Scott.
His first proper bit of success was with "Space Oddity" in 1969—but that was written off by a lot of people as a novelty tune because the BBC used it in their coverage of the Apollo moon landings.
"Space Oddity" is now considered to be one of his most famous songs, but back in 1971 as Ziggy was being recorded, it was a mere chart footnote.
The Man Who Sold the World came out in November 1970, but the world wasn't ready for an album cover that featured a man wearing a dress. Some record stores refused to stock it and concerts were more than half-empty. The record was a stiff.
Hunky Dory followed 13 months later—and this is where people began to take Bowie more seriously thanks to songs like "Changes" and "Life on Mars." Maybe it was that second song that got Bowie thinking of more otherworldly things because just six months later, the Ziggy Stardust album appeared.
Bowie had been thinking long and hard about how to break through the glam and pop noise that was running through Britain at the time. Then, drawing on his theatre and mime training, he came up with a brilliant idea. What about assuming the role of a character who could do and say and dress and act in ways that a regular rock performer couldn't?
Who Was Ziggy?
Ziggy—this androgynous doomed alien—was an amalgamation of a number of people. Bowie had been hanging out with Iggy Pop, who was in his drug-fueled crazy phase, which is where the "Ziggy" came from. "Stardust" was borrowed from The Legendary Stardust Cowboy, a Texas singer who was into psychobilly before anyone knew what that was.
Another influence was Vince Taylor, a whacked out British singer who did most of his best work in France in the late 50s and early 60s.
A final influence was a Japanese fashion designer named Kansai Yamamoto. Many of the way-out costumes we saw on the Ziggy Stardust tour were designed by him.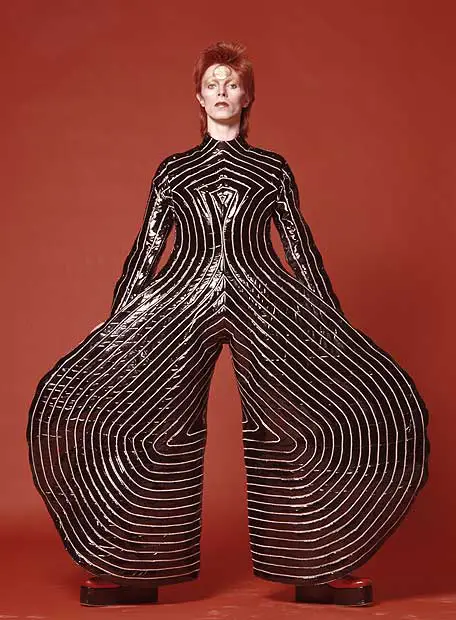 Playing the Gay Card
After the man-in-a-dress issues of The Man Who Sold the World, Bowie understood the power of shocking staid, class-conscious Britain. had begun to set things up earlier in the year when he gave an interview to Melody Maker. It was the January 22, 1972, edition. The quote that got all the attention was "I'm gay and always have been, even when I was David Jones."
This was a crazy, powerful thing to stay. Homosexuality had been a criminal offence until the British Parliament passed the Sexual Offences Act of 1967. It outraged conservative Britain—but hearing a pop star say that gave hope and inspiration to thousands and thousands of closeted gays in the UK and beyond.
Bowie was bisexual at most, but it didn't matter. This meant something.
The Haircut
Bowie's wife, Angie, had found a picture of a puffball hairdo in the English edition of Vogue. She showed it to a hairdresser named Suzi Fussey who worked in a salon on Beckenham High Street. Suzi thought that the 'do Angie showed her had promise but needed something…more. Combing through more magazines, Suzie co-opted several more styles which she then replicated it on Bowie's head. Everyone was so pleased that Suzi became Bowie's official hairdresser and later married his guitarist, Mick Ronson. The colour of the haircut was suggested by Kansai Yamamoto.
The makeup was the work of an Algerian born guy named Pierre Laroche who had grown bored working within the traditional make-up industry. He impressed Bowie so much that he stayed on with him for years.
Then there was the whole A Clockwork Orange vibe, hinted at in Ziggy's dress and makeup. Stanley Kubrick's ultra-violent movie had been banned in the UK upon its release a year earlier, so it was pretty hip to reference it in a sly way.
Why Call the Band "The Spiders from Mars?"
Great question. For the answer, we have to go back to 1954 to a soccer match in Florence, Italy. Just after halftime, the crowd of 10,000 looked up to see a ball of something moving across the sky. And then it just stopped and hung there. Then some silvery, glittery material streamed down from those balls, all of which disintegrated to the touch.
It was such a crazy sight that everyone—including the players on the field–stopped to look up. Was it a UFO?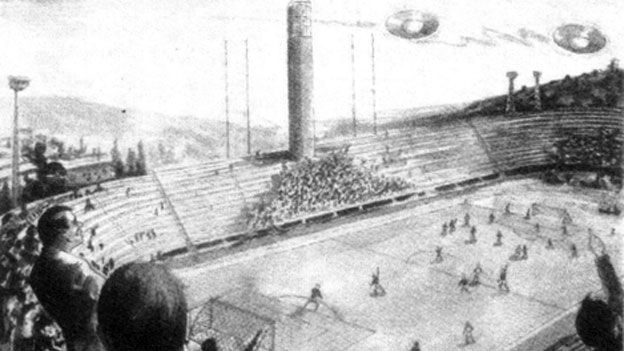 Actually, it was a huge swarm of migrating spiders who spin webs that are used as sails that often took them high aloft in the winds. So no UFO, but the idea stuck with Bowie until it was time to name The Spiders from Mars.
Recording the Album
Ziggy Stardust is supposed to be a concept album, which grew out of the original idea of creating a musical or a stage show or maybe even a program for the BBC.
The album was recorded at Trident Studios in the Soho area of London. Bowie produced it with help from a young engineer named Ken Scott, a guy who had worked with the Beatles during their later years and would later Elton John and Supertramp.  About half the music for Ziggy was written even before Hunky Dory, so the sessions moved quickly.
Back then, Bowie would work out songs alone, mostly on an acoustic guitar but sometimes on piano. He'd then take these ideas into the studio and encourage Mike Ronson, bass player Trevor Bolder and drummer Mick Woodmansey to contribute what they could to the final version of the song.
Compare that to the way so many of today's pop songs are created. The producer is in charge. Below him is someone who makes the beats and another who works on the creating the hook of the song. Once that's assemble, the producer brings in someone known as a "topliner," who creates the melody. Then a lyricist or two is brought in to write the words. Only once all that is complete is the song offered to an artist. That's why when you look at a Katy Perry record you see more than half a dozen songwriting credits for each song.
The Storyline of The Rise and Fall of Ziggy Stardust and the Spiders from Mars
The scene is five years before the end of the earth.  This is why the album opens with "Five Years." All the natural resources are about to run out.  The older generation have basically checked out, leaving young people to do whatever they want.
Next is "Soul Love," which doesn't fit very well into the story. It just seems to be a random track left over from some earlier session.
At first, Ziggy is ignored by the people of Earth.  But then he starts singing songs of hope that allude to spacemen known as the Infinites who will come to Earth to save us all. Ziggy comes to believe that he's evolved into some kind of prophet.  This is what "Moonage Daydream" is all about: Ziggy's ascent to the level of a beloved rock star.
Then we have "Starman," which is the message Ziggy delivers to the people of Earth on behalf of the Infinites.
The final song on side one, "It Ain't Easy," is actually a cover written by an American performer named Ron Davies.  We're not sure why Bowie included this song other than the fact that he had a recording of it left over from Hunky Dory and wanted to use it. It has nothing to do with the Ziggy story. For fun, here's the original.
Moving to side 2, the first song is "Lady Stardust," which is some kind of tribute to his buddy Marc Bolan. The original title of the song was "He Was Alight (A Song for Marc)."
The next track, "Star," is hard to fit into the narrative. The best we can gather is that it's supposed to be from the perspective of a boy in the crowd, one of Ziggy's acolytes, who wants to be a star himself.
"Hang On to Yourself" is a caution to everyone about the dangers of stardom and how it can lead to delusions of grandeur.
The song "Ziggy Stardust" makes a little more sense if you imagine that it's an eyewitness account of one of the Infinites who is looking down on Ziggy. This Infinite—who may or may not be one of the Spiders from Mars—seems to approve of what he sees.
Then we get to one of the great singles from the album, "Suffragette City." Don't bother trying to make it fit into the album's concept because it doesn't. It's just a good old stomper of a glammish pub-rock tune.
When the Infinites do arrive at Earth by hopping through a black hole, there's a problem. Because their bodies are made up of anti-matter, anything that comes into contact with them dies. That includes Ziggy who touches an Infinite and dies on stage in front of his disciples—this is the song "Rock'n'Roll Suicide."  At this point, the Infinites absorb Ziggy's essence, which makes them visible to the rest of humanity. And then…well, whatever.
The Album Artwork
The pictures we see as part of the artwork were taken at 23 Heddon Street, which is just off Regent Street. K. West is a store that sold furs. "K. West" wasn't code for anything, although a certain rapper might insist that it foretold of his appearing on our planet.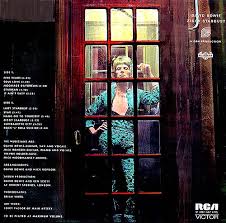 That original phone box is long gone, but while it was there, it became a shrine to Bowie fans from all over the world who sought it out. There's now a plaque on the wall at 23 Haddon Street that marks the spot.
The Tour
One of the reasons Bowie was so successful as Ziggy is because the whole concept was so theatrical–far more so than any rock'n'roll experience to that point. Ziggy delivered rock'n'roll in a way that no one had ever seen before: the characters, the concept, the costumes, the role-playing. You didn't go to see Bowie. You went to see Ziggy.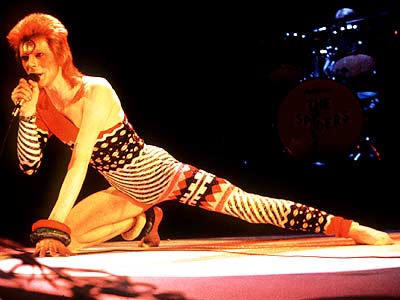 The Ziggy tour lasts from January 29, 1972 (less than a week after the "I'm gay" statement) to July 3, 1973. The last gig at the Hammersmith Odeon is famous for Ziggy announcing his retirement and that "this was the last show we'll ever do."  People thought it was Bowie talking, but it was Ziggy.
The Top of the Pops Moment
A major milestone in the tour was Bowie's appearance on Top of the Pops July 6, 1972. Remember that there were no commercial radio stations in the UK at this time, so Top of the Pops was one of the few places where you could hear the big songs of the day.
Relatively few people knew what Bowie even looked like before that night.  When he appeared, arm draped semi-suggestively around Mick Ronson's shoulders while singing "Starman," most of Britain thought "Who is this weirdo?" But young people freaked out. "Starman" and the Ziggy album started shooting up the charts. That appearance set Bowie on the road to where he is today.
Finally, my favourite story about that tour. When everything was set up at the Hammersmith Odeon, a couple of young thugs broke in and stole all the band's microphones and some other gear. One of those kids was named Steve Jones. Those mics would be later used in a band Steve was in a few years later called The Sex Pistols.