An interview with Dear Rouge and photos from their Ottawa tour stop
[Another report from Karen Coughtrey, who conducted the interview. Photos by Ming Wu. -AC]
Ahead of their November tour stop in Ottawa, A Journal of Musical Things sat down with Drew and Danielle McTaggart of Dear Rouge to discuss their experiences on the road, the latest album, their influences, and future plans.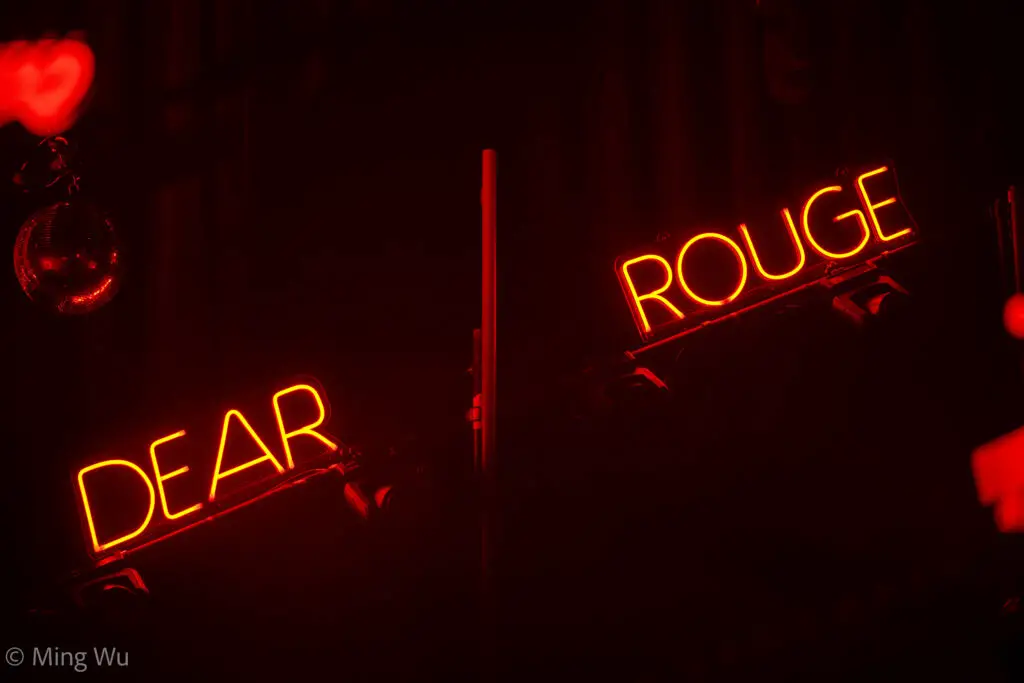 AJOMT: Where do you find the energy for two cross-Canada tours in one year?
Danielle: "We have boundless energy. We just love what we do. There's the energy in that you're just enjoying every moment of getting to create music and have people care that you've made something. It's such a special feeling, we're always so thankful for it."
AJOMT: Any memorable moment stories from the road?
Drew: "There's so much that happens all the time. I think a lot of the time the stuff that you remember is when you overcome adversity. Last headline tour, we decided to take this tour van that was at the end of its legs. It was fine, it was new, but we put a lot of kilometers on it and it broke down outside of Sudbury. And then the second time it broke in downtown Manhattan right before the tunnel. We were there for 10 hours and we had rented a van from New Jersey, gave that one to the junkyard, drove to Scranton, Pennsylvania, and the next day made it to Kingston to play the show. In that whole process, [those 24 hours, we're] sitting in close proximity to eight to 10 people and you have these special bonds with all these people that you go with. We're very fortunate to have a good crew."
Danielle: "Our first tour ever we drove a travel van with curtains, it was a burgundy colour. It's very plush, velvety accents everywhere. I think the ceiling lit up too, there was like a sex light. Anyways, we drove that through the mountains, and we'd get to our hotels, which was actually one room that me and the five other guys slept in. I remember waking up at three in the morning, it'd be [thinking] first, how did we survive driving through the mountains with this bouncy van, and second, these guys are snoring like a choir, each at a different pitch and at a volume that there's no way I'm gonna sleep tonight. So we've had some funny beginnings and definitely thankful to be at a level now where we get our own hotel rooms."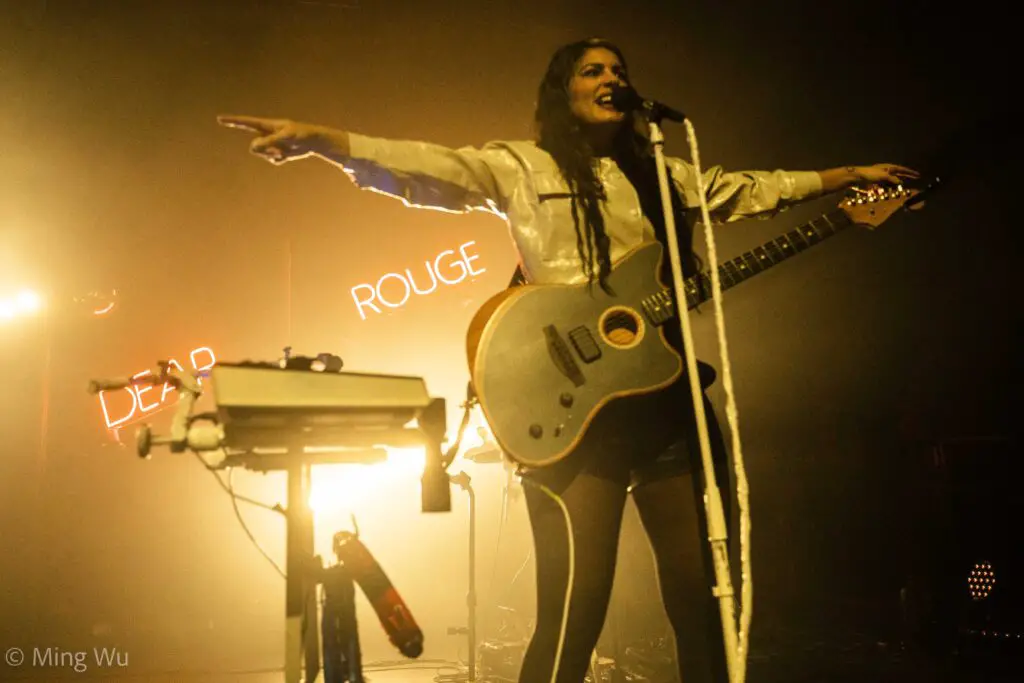 AJOMT: Did the artists you supported, Lights, The Arkells, Metric, etc offer you any advice you'll now share with your future opening acts, or other new artists?
Drew: "Two examples come to my mind. One was from Lights. She talked about how important the fans are. She would go to the merch table, she would say hi to everyone. And you know at that point in our career, [we wondered] how do you make that not seem superficial, you're just doing that night after night. How do you fake it? Then [we realized] you build this fondness for the people who are at your shows and you know all those conversations feel meaningful and feel special and she was so good at that. She told us the importance of that early on. And that was huge."
"Another one was from Torquil Campbell of Stars. We were playing Canada Day with him and Dan Mangan in Calgary. Danielle asked him for advice and he said, "Play to the people who are there. Don't be looking at the back of the room where the people are half into it, play to the people that are there. The people who aren't there don't matter to the show, whether it's big or small. Those people that are right there are the most important"."
Danielle: "Basically be faithful to your fans and not be wishing for something that isn't there at the moment, enjoy who's around. That was a really good piece of advice. My one thought was about Lights, meet everybody, try your best to be there for your fans and not to make it about you. The best that you can. Doing music, if you're doing it from the right place, it usually comes from you. It's not a selfish thing, but it's definitely about you. Then once you put it into the world, it becomes about everybody else, and their connection to what you're creating. And it becomes about serving your community. Being an artist to me, it's about being able to contribute and be a part of healing our society and healing each other. So I really tried to think about that, how can I make this not about my own insecurities and what I need from the fans but how can I help and love and try to give of myself. I think that what Drew was saying [about Torquil's advice] is so helpful. Don't think about who's not there, think about who is. Things like that are really amazing when you're out on the road."
AJOMT: You escaped to a cabin in the woods to write and record Spirit. Why did you choose to do that? I know of other canadian artists who have done the same, is there a famous secret cabin all the cool canadian artists take turns escaping to? 
Danielle: "I don't think there's a secret cabin. I think it's just getting rid of the noise and having to be free of distractions and getting to a place where there's no Wi-Fi so you literally can't be tempted to compare or try to copy. I think things like that help you to detox your brain and get into a space where you can create from a pure spot and nature… It's so amazing to just breathe fresh air."
Drew: "I think it is the magical cabin. When we were first starting we quit our jobs and my friends just assumed I could do anything at any point, because they're like, "You're not doing anything. You're doing music [It's not a real job.]" So if I told them I had to write, they would be like, stopping me there [and saying] "Oh, no, just write, tomorrow, come out with us." But if we go to the magical cabin people don't bother you because they think you're in this magical Zen and unique [place.] They actually feel like you're working when you're at the cabin. And so like Danielle said, it allows you to focus but it allows everybody else to be like "they're in the magical cabin, leave them alone"."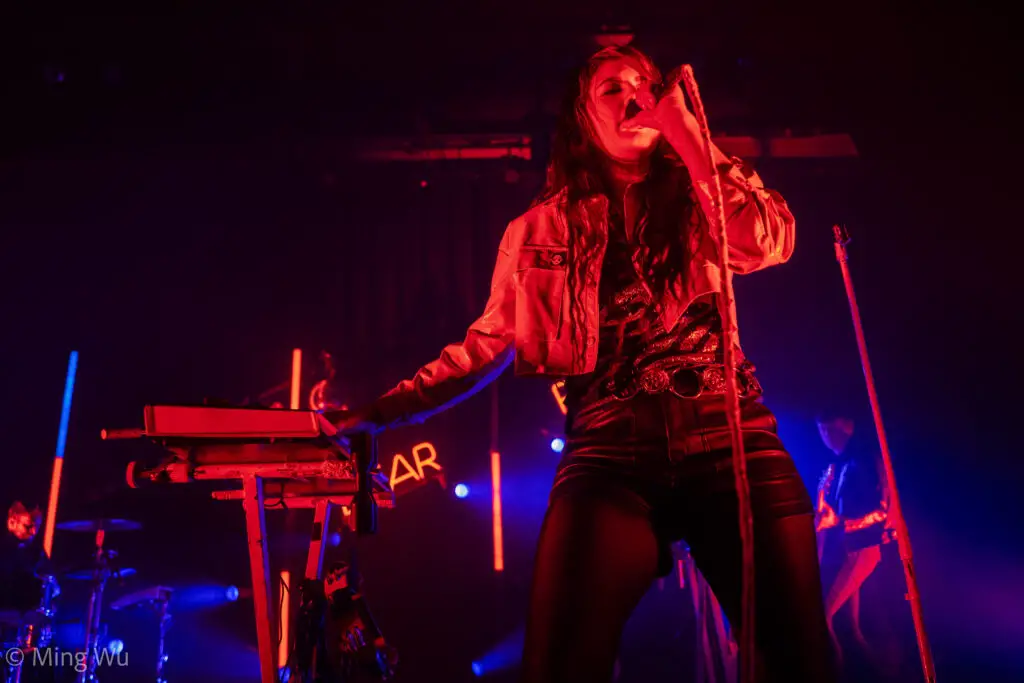 AJOMT: This album has a different sound than previous albums, I assume because of the deep woods recording experience and as well recently Danielle you have picked up the guitar for some songs, and Drew you have been sharing some vocal performances. Will we continue to see more of this diversity on upcoming releases?
Danielle: "Yeah, I hope so. I really enjoyed playing more guitar. I always wanted to play electric guitar but I never say I'm a guitar player. I can play but I know, being amazing at guitar is like a whole other world that I will never be able to fully master. It takes so much time. But I love writing and I love using that instrument to express and get new inspiration. So I'd love to write more on it and then because of writing on it,  it gives you an opportunity to also be comfortable to play those songs live, which we love doing. And Drew's voice is amazing. Since day one, I've peer pressured him. He wants to sing more. But it's finding those pockets that makes sense for Dear Rouge. But I'd love to have more vocals from Drew, or guitar from me. And I think we're kind of more inspired to, in our development, change, because Dear Rouge really sits on the pop rock side of things, we like shifting it. It's fun that we have the opportunity to go more rock if we want to. I think for our next album, we're feeling we want to kind of lean in more to rock."
Drew: "It's about growth. As artists, part of the fun is that you're exploring new territory for yourself. I'm not saying that we're reinventing anything. For us, like when you're hiking, and you think, I want to take this route because last time we did that route, and that's just a part of it. Obviously, the pandemic had a huge influence on what we were creating, and what we wanted to hear. I hope that people can hear us, and they can sense growth and change every album. Hopefully, we're on a journey rather than trying to be a karaoke band of ourselves."
AJOMT: Have you or do you plan to collaborate with any of the artists you've supported over the years?
Danielle: "That opportunity is always amazing when it shows itself. I think it has to happen organically. Because anytime we try and say we should do something together, unless both parties are in a place where there's time and space to do that, or like careers kind of make sense for the journey that you're on, we wouldn't push it because it just has to feel like a natural thing. [It] happened with Lights. It was pandemic time, she was around, she lives in Mission and we live in the Chilliwack area. So we're close by to each other, and it just kind of happened, which was awesome. I'd love to see more of that for us, but we wouldn't force it."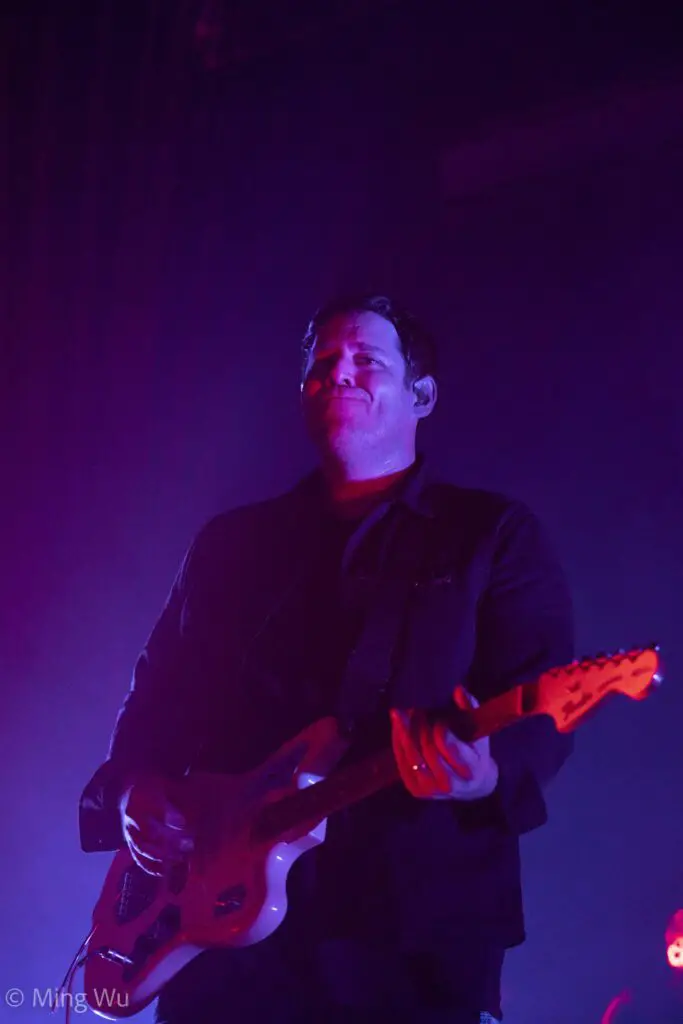 AJOMT: What would be your dream collaboration? If you could come up with anyone?
Danielle: "You should say mine and I should say yours."
Drew: "I can answer this question through Danielle McTaggart, or through Danielle from Dear Rouge. I feel like, if it was just Danielle McTaggart, I think her dream collaboration would be with Beyonce. I would also say Karen O from the Yeah Yeah Yeahs, that would be her dream collaboration."
Danielle: "I was gonna say Karen O for myself, I would say the Yeah Yeah Yeahs but I love that you think I could do a collaboration with Beyonce. My pick for Drew would be, I think he would like to collaborate with [Britt Daniel from] Spoon. We just went to Spoon recently at the Commodore Ballroom in Vancouver and we were really good fans that night. We had a really good time. The show was amazing and [Drew has] always been a big fan."
AJOMT: Do you have any collaborations in the works currently?
Drew: "There's one actually, we were featured on another artist from Chilliwack. [It's 'I Still Get Butterflies For You In My Tummy' by] Mauvey featuring Dear Rouge and it's coming out in November."
AJOMT: We know the band name was inspired by Danielle's hometown. Where do you typically pull inspiration from for your songs? Some of the songs on your current album seem like they might be talking about current events/the political landscape
Danielle: "Our lyrics definitely come from our relationship and our faith base because we're very strong in faith and spirituality. And I think they probably come from things and events around us. I find having deep faith makes it very hard, in the world today, to put love forward. Particularly in 'Face Down', I really was thinking about some of the views that we get so stuck on, that we just can't love each other. It seems very strange to me that we can't love somebody who's different from us. Not saying we can't, but we often all have a struggle with that, right? And diversity is what we need. In the season of writing this album, we were going through a lot of personal trauma and heartache and losses and that kind of came through. But then I've heard people say our album is a lot more happy and lighter feeling and [I think that's] interesting."
Drew: "It's weird. It's heavier but it's happier music. Through the reflective time that we've had over the last few years, we find that we come alive when we start writing about stuff that is fully internal. That makes it easier to sing night after night. You write a bunch of songs, and they can sometimes not feel important if you're trying to make a "hit". If you're trying to write for the sake of writing to be on the radio, or a hit or whatever, those songs fall off a cliff so quickly, and then you have to sing it at your show. And it doesn't make any sense. And we learned that early on, and we hold on to that pretty closely. So a lot of it is internal, these lyrics."
Danielle: "We're trying to make music for the sake of loving music."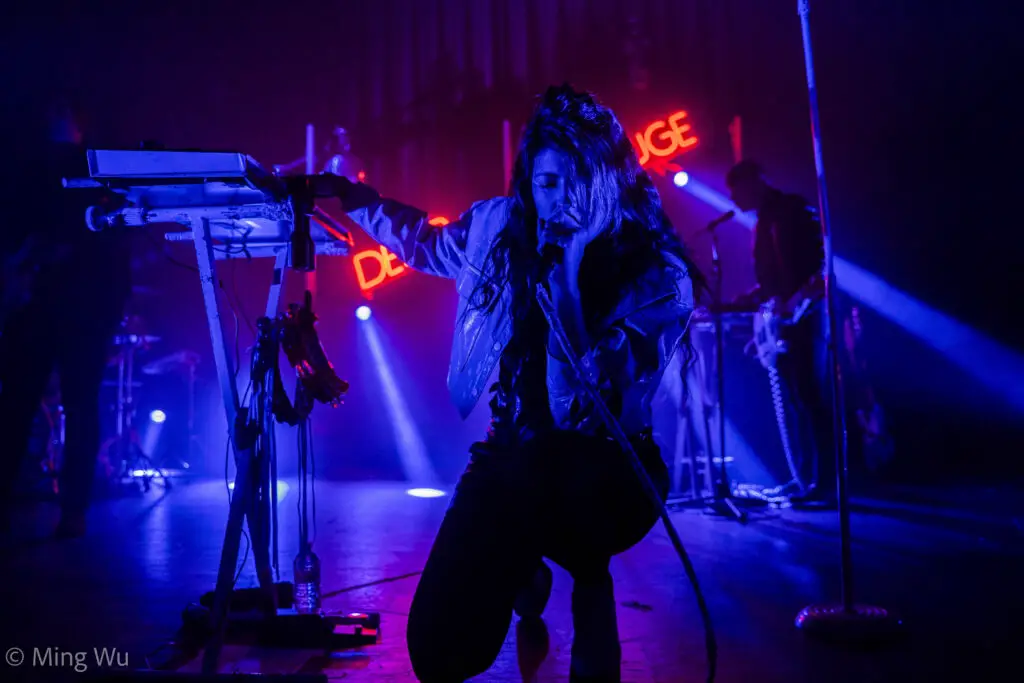 AJOMT: Is your new hit single 'Meet Me At The Rio' an autobiography on your rise to fame?
Drew: "We wrote it about touring, especially missing touring these past few years. We wrote it about real situations that happen or we read about. Everything about the song is the experience on tour, from eating french fries in the car to a girl pouring oil on her head, a French band who when we were playing shows back in the day, there weren't many people there so they bought shots for everybody in the crowd, mid-set. We kind of just dove into that when we knew the song was about that. And that's when I talked about the songs being important when we play that song. It was fun, because it's stuff that really happened, not just made up."
AJOMT: You put a lot of thought into naming the album Spirit and are aware it can mean different things to different people. What overall feeling or idea do you want people to walk away with after listening to this record?
Danielle: "We looked up the definition for spirit, and we thought it was amazing. And we wrote the song 'Give Me Spirit' and that set us in that direction to take me back to why we started in the first place. A Lot of us have these dreams that get crushed or thwarted by some obstacle and we want to stop, we want to give up. But really at the core of each person, what's in their spirit is the dreams out there that are placed there, those little seeds of things that you have when you're a kid and then life happens. That shows you that it's hard and a lot of people give up. And for our story, a lot of things have happened to us that we thought for sure we're not going to get to do music for sure. But we didn't stop and we just kept believing even if it was just a dose of hope that our dreams would potentially be fulfilled, that they had potential. So with this album, I think it was a reminder to us to not stop and to be reminded of that spirit that needs to get rebooted. But also for others to be encouraged by that. That you have that in you. If we could just be a little cheerleader to that, that's what I would hope that our album could be. And then, it's there in good times. It's there in griefed times, it's there, that seed is not gone. It's always there as a part of you."
AJOMT: What's next for Dear Rouge?
Drew: "We are going on our headline tour this year, and that will wrap up the year. So that's on the forefront of our mind as we're practicing preparing, scheming, dreaming, getting excited. What's next is we'll start really diving in hard to creating a new album, while finishing the promo of this album. So hopefully we do some international stuff, there's a couple of tours in the US and in the UK that we might do early next year. Of course, because we're a good Canadian band you'll see us around all the festivals every summer and that's just something that's an amazing gift that we get to do and to travel every summer. It's beautiful in our nation. But yeah, I think really our mindset after this tour is to really dive into what we can create next. I think there's a little bit of freshness because of the return to normal or the so-called returning to normal, whatever is this new life we live in. I feel like we have an excitement, we've made some changes in our life like moving our studio. There's just a freshness with us right now that we want to tap into for recording and writing our next record."
Now on to the show.
It may have seemed to most to be like any other Wednesday night in Ottawa but those not in the know missed out on an excellent show by two of Canada's best new rock groups. Dear Rouge was supported by Hotel Mira at the Bronson Centre and although the space was not packed, the good-sized mixed crowd of mostly millennials was loud and happy to support the Canadian talent on display that night.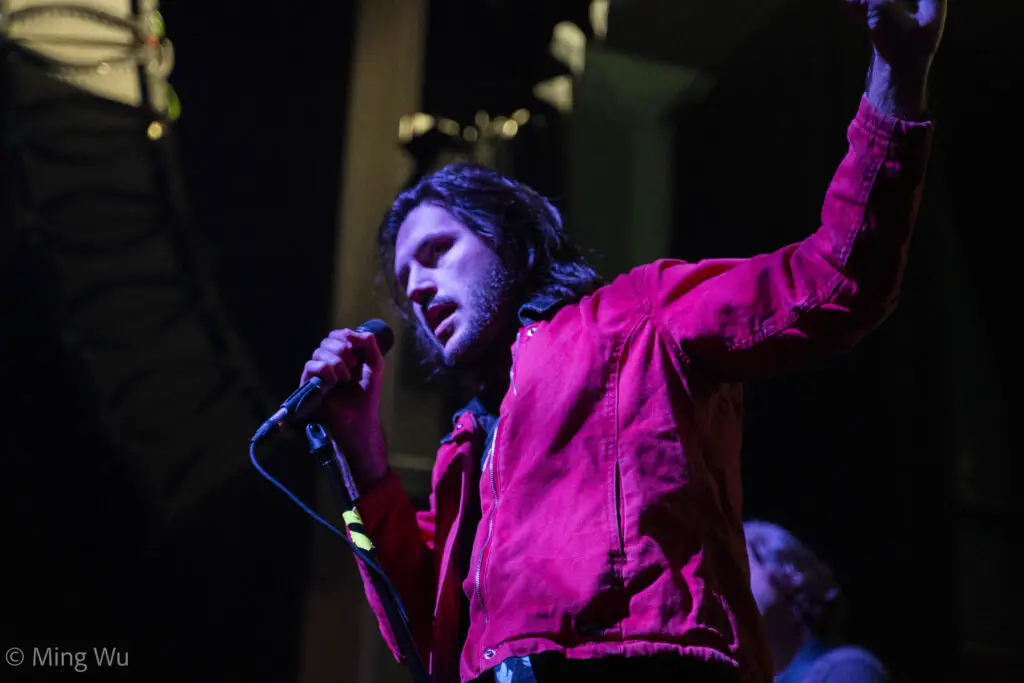 With the sound of the strike of a clock tower bell, the stage came alive and Hotel Mira, fronted by Charlie Kerr, took the stage. You couldn't help but be drawn to Charlie as he was dressed in a bright red jacket barely hiding a bold primary coloured Mickey Mouse on his black T-shirt. The music of course would also draw you in and Hotel Mira opened the night with their song, 'You Know Best'. The crowd was able to connect with the performance off the top and enjoyed singing along with 'Better On Your Own' after being asked to shout out the names of recent exes and the band had the crowd dancing along with the upbeat danceable chorus of 'This Could Be It For Me.'
Hotel Mira introduced the audience and received a warm reception to two new songs, including 'Eventually' which comes out this week. The band really hit their groove and had the crowd singing and clapping with them to 'Jungle', 'Speaking Off The Record', 'Southern Comforting' and They ended the set on a high with 'Fever Pitch.'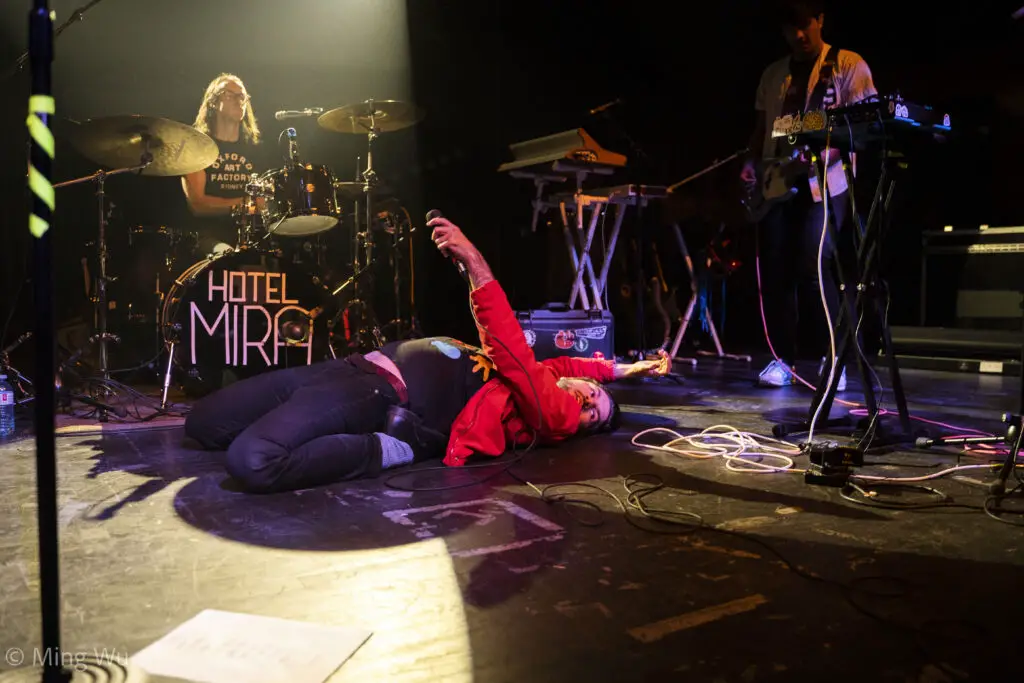 Connecting with the fans seemed to be a priority of the band and perhaps they had received this advice from headliner Dear Rouge (see the interview with Dear Rouge) and Charlie could be seen often crouched down in order to sing at the level of audience. Immediately after their set they could be found at the merch table and they continued to mingle through the crowd during Dear Rouge's headlining set, clearly fans themselves.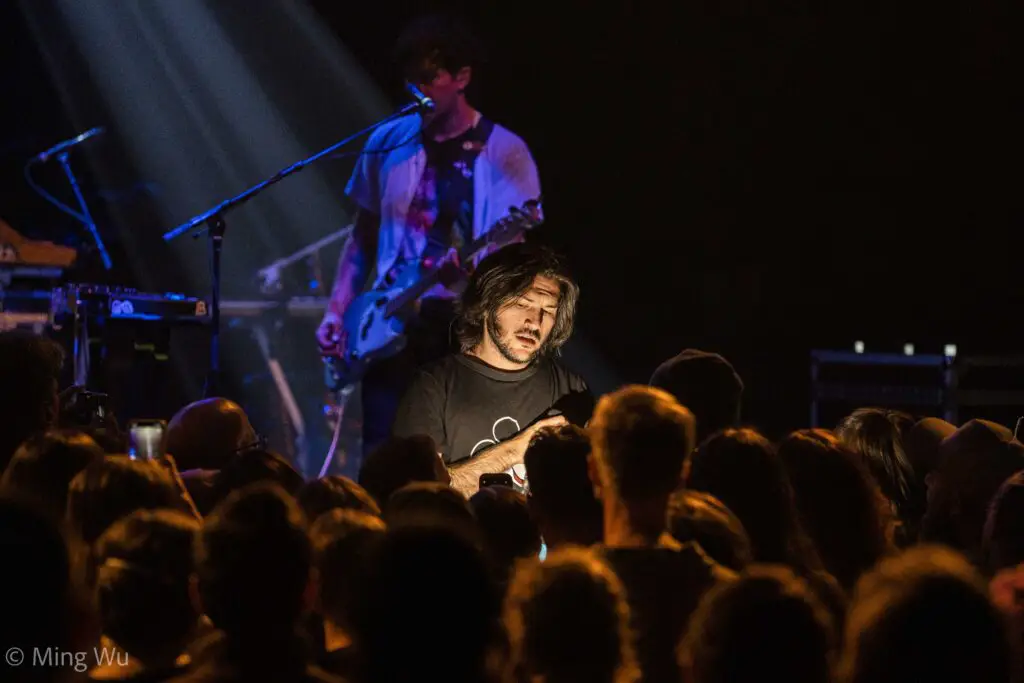 Dear Rouge knows how to build anticipation and announced they would soon take the stage by slowly lighting up a red neon sign reading "Dear Rouge" one letter at a time. They started off their set with 'Relationship Problems' a song off their most recent album Spirit before kicking up the energy with 'Fake Fame' one of the singles from that same album.
Danielle would be the bringer of energy and she was captivating to watch as she moved about the stage. The crowd did their best to match her energy on every number but, particularly on songs 'Boys & Blondes', 'Way Down', 'Black to Gold' and 'Facedown.'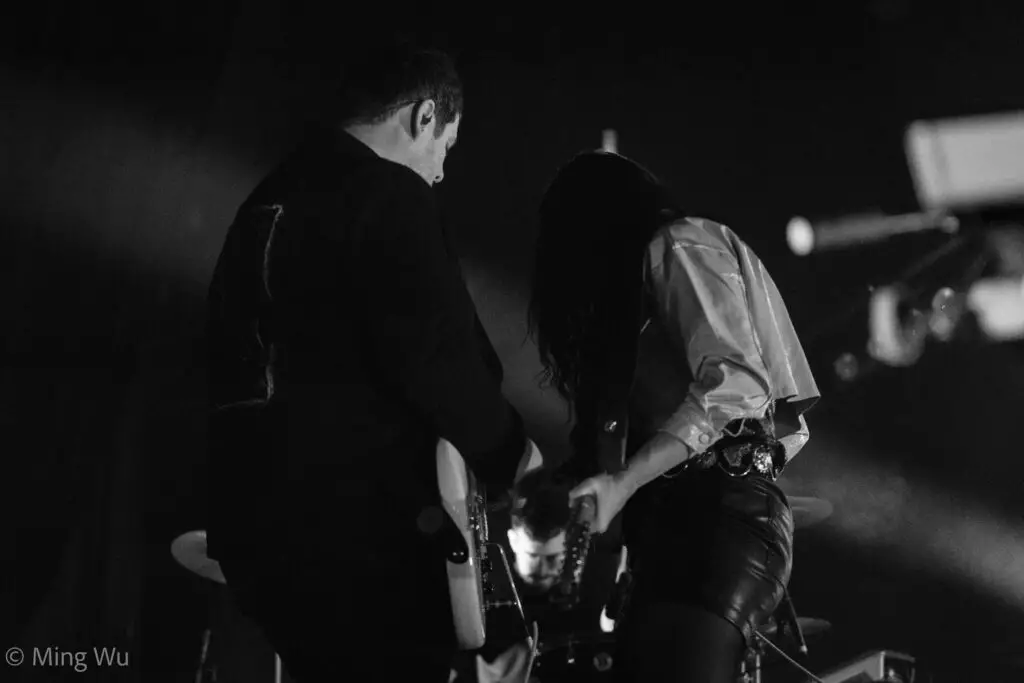 The stage design was simple but their use of the lights to create atmosphere was highly effective throughout the entire night. They changed colour to suit the mood of the song and flashed to the beat but some effects were more memorable including appearing like little yellow rockets taking off behind them in 'Fake Fame', Red and Blue lights leaping like jumping beans in 'Live Through The Night', waving orange lights and ominous music leading into 'Modern Shakedown', The pink light radiating off the disco ball in 'Stolen Days', a lighting effect that made Danielle appear to be moving in slow motion in 'Tongues' and at one point, large panels of white lights twisting and rotating like giant angel wings.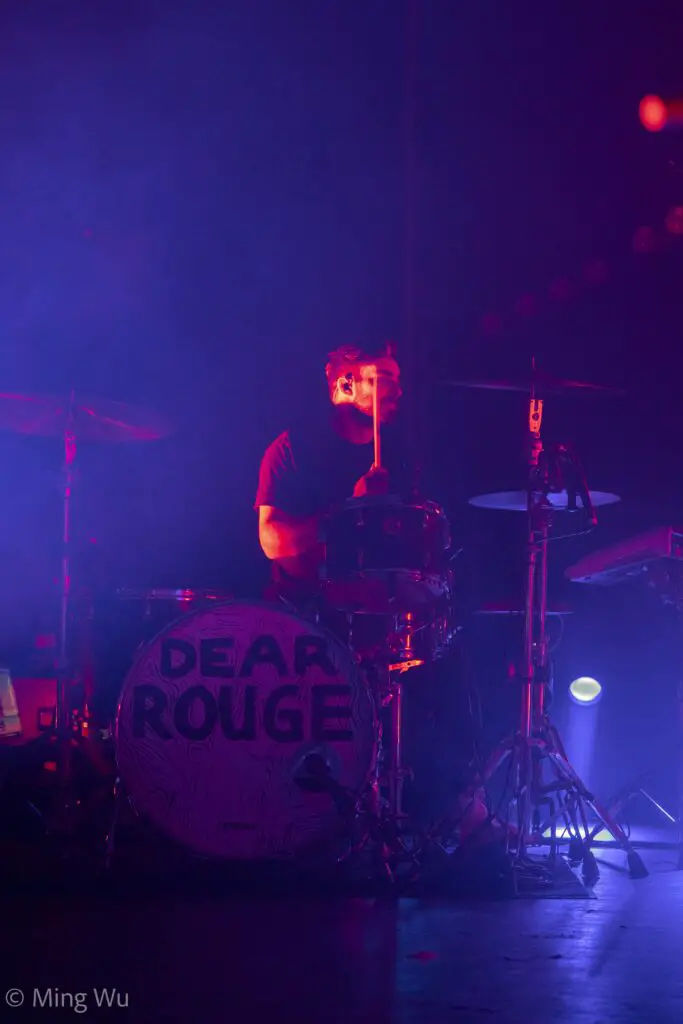 While Drew focussed on the guitar and adding some vocals, Danielle changed instruments often, always focussing on the vocals but sometimes picking up a guitar or percussive shaker. They would also slow it down and play some songs acoustically including the beautiful 'Life Goes By and I Can't Keep Up.'
They would end their set on a high note with a clear crowd favourite 'Gimme Spirit.' Danielle reminded the crowd to "Be Yourself" before leaving but the duo returned for an encore including 'Stolen Days' and a fun lively song off the new album, 'Meet Me At The Rio,' that had the crowd ending their night dancing.
Dear Rouge
Danielle McTaggart – vocals, percussion, keyboards, guitar
Drew McTaggart – guitar, vocals
Jordan Kern – bass
Stefan Michael Tavares – drums
Hotel Mira
Charlie Kerr – vocals
Mike Noble – bass
Clark Grieve – guitar, keyboards
Cole George – drums