An Interview with Human Human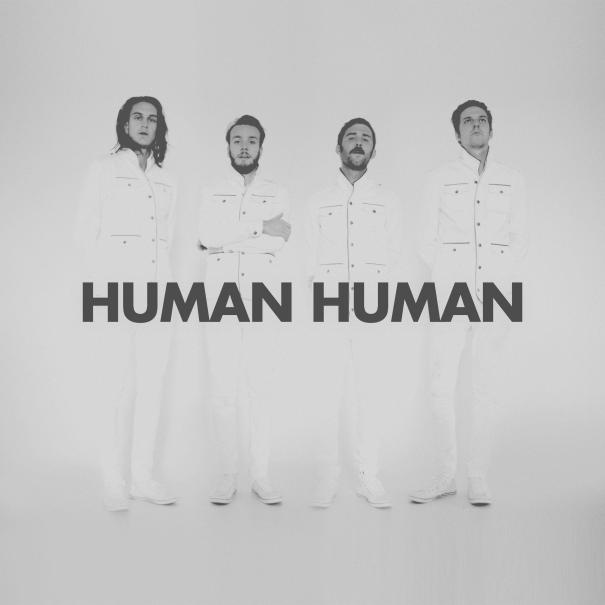 [Last weekend, I dispatched correspondent Juliette Jagger to the FME festival in Rouyn-Noranda, Quebec. She managed to nail down Human Human for a chat.– AC]
Tell me a bit about your love of Brit rock, your trip to London, and how that all came together to inform your debut record?
Well, we went to London without any gear or any talk of music. We were just four friends. We've all been huge fans of British music for a very long time, so the trip didn't necessarily influence our sound. That being said, we did book our studio sessions with Jace Lasek at Breakglass Studios and had a whole bunch of songs prepared before we went away, but after that month, we came back fresh and wrote 10 new songs in 2 weeks, and threw all the other ones in the garbage. That trip really wrapped everything up for us.
Being from Montreal, do you find that the city informs your music at all.
We're actually from the suburbs of Montreal, so yeah, I think that seeps through our music. We've lived our best years there so I think for all of us those British influences and the other musical influences we each had in our childhoods, as well as our friendship, are really the key informants.
This is something I ask a lot of bands to chime in on, but with music being what it is right now, especially with the existence of such a large independent online community, what is one of the biggest struggles you guys have faced as an independent band today?
It's probably a question of money mostly. When you get signed to a label that's a question you can let go of because they have that revenue. When your independent you have to do everything yourself – your sound, your image, that's all you.
We're kind of control freaks so being independent has actually worked out well for us. Even though as an Independent band you evolve slower and it's a lot more work, now we're at the place where we want to be.
You guys were recently booked on the Young Galaxy Tour, will this be your first cross-country?
Yeah, and we're really psyched about it. We like Young Galaxy a lot, and it's really great timing for us right now with our new EP. This tour is just a great way for us to take steps in the right direction with this band.
Participating in FME?
We've wanted to participate in FME for a few years now. Montreal is a very closed circuit in terms of the emerging music industry, it's just very small, so we were able to meet a few people and were eventually invited to come out.
What's great about this festival is that, if you put Osheaga aside because it is something like a huge machine, FME is one of the only other really great festivals in Quebec that involves such great bands – it's like a little Austin, Texas.
The people who are on top of this festival are awesome. As a band we have a nice place to stay, we're fed and given beer, we get paid to play, and we have just been so well treated. It's almost like a gift you know? Here are these people on top saying, 'you guys are struggling, you guys are awesome, and you need to get your music to the ears of the people, so let us help you.' These are probably the best conditions you can ask for as an artist.