An Interview with Indian Handicrafts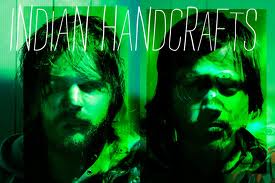 [Last weekend, I dispatched correspondent Juliette Jagger to the FME festival in Rouyn-Noranda, Quebec. Whilst there, she managed to grab some time with Indian Handicrafts. – AC]
With there being so much music to filter through these days, it's always so great to come across a record such as yours that is so completely big, brash, and in your face, and just finally take a big breathe and go, 'okay there's still rock and roll happening out there.' That being said, I'd like to get a feel for what first turned you guys on to music?
BJA: My first album was Tom Petty, and my mom gave it to me as a gift. But, I think when I was 12, I heard Nirvana for the first time, and my friend on the school bus just said 'look you've got to hear this.' I just thought wow this is awesome; I never really heard anything else like that before, and that made me really decide that I wanted to play drums. So, that was a big band for me growing up and then probably The Melvins.
DBA: Yeah, when I first got turned onto music I was probably 4; I saw the KISS made for TV movie. So basically, clowns with superpowers. Also, the KISS album cover looked really cool, so Supertramp then looked cool, and Black Sabbath and Alice Cooper looked cool. Then, in my teen years, I got into The Melvins and that was pretty much it.
Being that you were both into The Melvins growing up, working with them on your record, Civil Disobedience For Losers, must have really been something…
BJA: Oh yeah! That was totally by chance and dumb luck. When we first flew to California to meet Sargent House, the label, Cathy the women who runs it asked us what kind of bands we wanted to hear and what we wanted to the record to sound like? So we just said, uh, The Melvins.
DBA: Almost right away she said, 'oh cool, I know Toshi, I'll get him to come over.' So, two hours later he comes by and we're just talking and hanging out with the guy, trying not to say something stupid.

You guys have since been listed as one of 10 current bands that influence The Melvins…
DBA: Yeah, I think that alone was cooler than actually working with them!

Let's talk a bit about touring with Billy Talent. I think something that can be really difficult, even for an experienced independent band, is getting onto that first big bill so that you can finally reach a wider audience. Did you find that joining the Billy Talent tour was a sort of turning point for your band?
DBA: We actually met Ian along time ago and he was a fan of our band, so it had a lot to do with that.
BJA: He was the one who actually hooked us up with The Agency Group, and they book for us now, but probably for a decade before that we were booking our own tours. People would email me and say, 'I like your band, you wana play?' And I would say 'sure, we'll be there.' Getting picked up by The Agency Group was one of the biggest things for us because it really does take your band to that next level, you know?

I ask this question to every independent band I get the chance to speak with. Being that there are so many bands out there right now, what is the biggest obstacle your particular band has had to face along the way?
BJA: For us it's generally been to do this but also be family men. We both have families and households to take care of now, mortgages, and children. It's just sort of a juggle between going out on tour and making enough money to send back home.
DBA: Yeah, I think that's definitely been our challenge. We can't just go out on the road for extended periods of time like some younger bands do. When you've got a mortgage and kids it's hard because you can't not be self-employed. At a regular job you can't turn around and say, I'm going to take 5 weeks off. You're just self-employed hoping that you have enough money to go out on the road while trying to justify taking this "unpaid vacation" you've been saving up for here, but having to turn around and say, 'sorry the kids can't go to swimming lessons.' That part is really hard. But, you know, you learn, and you get more exposure, you make more money, you get better, and you do shorter stints.
BJA: We also have a really great label, and our having families was one of the first things we talked to them about. What's funny about our situation is that at the time we got picked up, we had already been in band for years and finally said screw it. Then, all of a sudden when we stopped carrying they came along and said, 'hey we think you're great, and do you want to work with The Melvins?'

Thoughts on FME?
DBA: Playing two nights at FME is great for us. Last night's show was a lot of fun and the crowd was really responsive. What's cool about a festival like this one is that everything is in one area, not like in the city. It's just nice to see everything and everyone so close together.