An interview with Julian Taylor
[Ottawa correspondent Ross MacDonald had a chance to sit down with Julian at Ottawa CityFolk. – AC]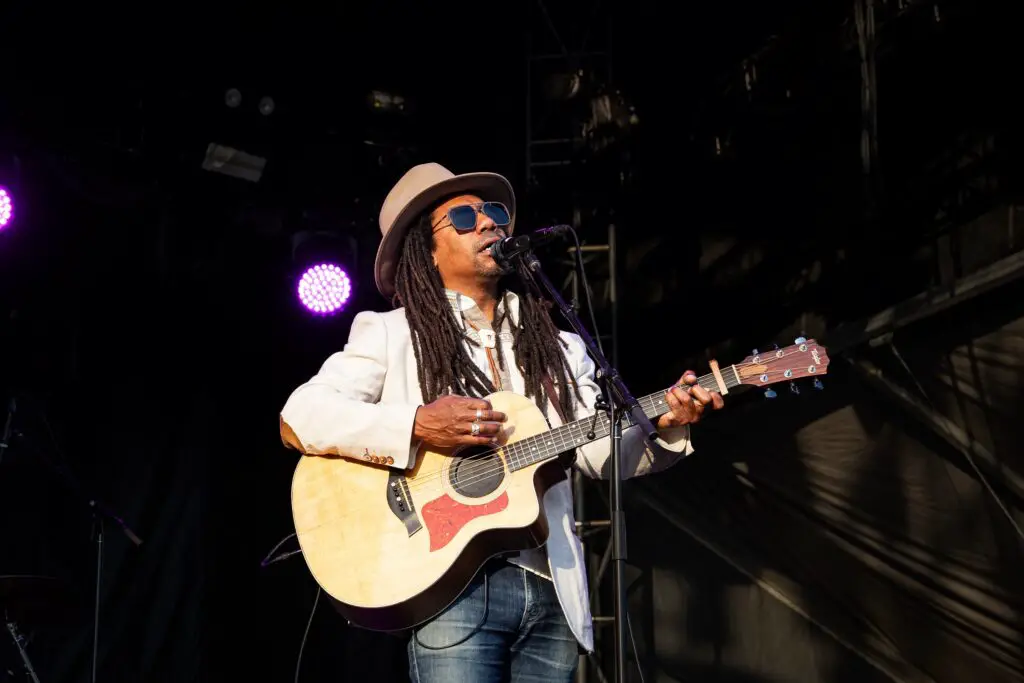 On the last day of Ottawa's CityFolk festival, A Journal of Musical Things caught up with the very busy Julian Taylor. He just finished his sound check after a late arrival coming in from Toronto (traffic on the 401). We had a few minutes to chat before he hit the main stage opening for Hozier.
AJOMT – You are back to the studio recording new material.
Julian Taylor – Yeah I was at Jukasa. And then Nashville. It's all related. It's all the same record.
AJOMT – How is that progressing?
Julian – Pretty good. I mean, we got a lot done. There's a couple things that need to be worked on obviously, we've got to mix it. And that's really the main thing. I'd say it'll be done; I think the next record of full original material from me, new original material, will be done by November. It'll be done before Christmas.
AJOMT – You also have an album of previously released material 'Anthology Volume 1'.
Julian – Yeah. The Anthology comes out this fall, in October. It's out in about a month.
It's sort of my greatest hits Volume One. Because what I found was, and it's interesting, because people in Canada know who I am, but people elsewhere don't really. When I was touring in the UK and Europe and a couple other places, and ended up playing songs from my catalogue that were not on 'The Ridge' or 'Beyond the Reservoir' they were like, "what is that?" And I didn't really have anything to offer them. I would play a song and they were like: "what records that it's on?" And I'm like: "it's on this record. I guess you could go stream it." And they were like: "we would love it on vinyl." So I was like: "okay, cool. Let's do it." So that was the idea about. Because I'd never been there before, and that's when that idea emerged. So it's kind of out of necessity. So in a lot of ways, it's like a reintroduction of my career to fans outside of Canada. But Canadians get it too.
AJOMT – Are there any new recordings on that?
Julian – Yes, there are new recordings, but the songs are old songs. Like 'City Song' is an older tune, I wrote it when I was 22 years old. 'Georgia Moon' I wrote when I was 19.
AJOMT – Is this the first time that 'Georgia Moon' has been recorded?
Julian – Yes, in a studio. There are live versions of Staggered Crossing playing these songs in the early 2000s. Those are done, and they will be on the Anthology. And another single will come out called 'Long Time Ago', which is the last song on the Anthology, aptly titled and placed, but it's an old song. 
AJOMT – I saw a photo of you and Colin Linden (Blackie and the Rodeo Kings), are there collaborations happening or is he helping in the recording process?
Julian – Yeah, he's producing the next record. And that's who came up from Nashville to record with me at Jukasa. And then we went down to Nashville to his place, it's called Pinhead Recorders. They had a great time (at Bluesfest), he was telling me about it and said it was smoking, thousands of people in the crowd. It was just so fun, he enjoyed it a lot he told me.
AJOMT – How did the acoustic / duo with Carsen Gray, SEEDS come together?
Julian – Do you like that? She's great, isn't she? It's really well done I felt, I was really happy to have her on the track.
We talked. It usually comes across to artists talking to artists. In my case it does, I don't know how it works for anybody else. I don't have a manager; I'll still looking. But I've got a lot of people on my management team that help me out. I've got a really competent bunch of people that work with me and it's great. Bev and I have worked together since 2014, almost a decade now.
AJOMT – Was it your intent to take an extremely powerful song to another level?
Julian – It was actually, because the song I wrote acoustically. I thought with two people singing, male and a female voice, and the lyrics being really bare, and the guitar and instrumentation stripped back that you can hear the lyrics. I thought that was a good idea. Because that's what I wrote the song about anyway. In a lot of ways, I could have just recorded it acoustically in the first place. But it was fun to record it with my cousins; Gene (drums) and Barry Diabo (bass), the rhythm section for 'SEEDS' was pretty great. They're actually the rhythm section for 'The Ridge' and part of 'Beyond the Reservoir'.
AJOMT – Music can be a great uniter. How do you see a place in reconciliation for music to take the lead?
Julian – Music is honestly the, you know the cliché goes, it's the universal language. So everybody understands it. And if something's gonna lead the charge, I think it's a language that everybody understands. And can relate to together, don't you agree? That's how I feel about it.
AJOMT – On Friday 29 September you will be performing at Koerner Hall in Toronto in commemoration of the National Day of Truth and Reconciliation. It sounds like this event will not only honour those affected by residential schools, but also take time to look forward to a better future?
Julian – Yeah, I think so. The thing that I think about when it comes to reconciliation, and it's such an honour to be there. When I look at all the mistakes I've made in my life, and I've made a zillion, and I will continue to, obviously, because I'm human. The reality is that when I was wrong, I was wrong. And the thing is that you can't go back, you can't change the past. And it's impossible to do, even though I wish time travel was real, it's impossible to do it physically. However, time travel, I think it's something that we can use our minds to go back and see what it was that we did wrong. And I'm talking about generally speaking. And in terms of reconciliation, I think it's a time certainly of admitting that something really horrible and atrocious and wrong happened, and who did it, and the reasons why, and apologise for that. And realise, okay, we can't change the past, but we can work on building a better future. And that I think reconciliation in terms of: if that is the ideal that people uphold the most, what is it we can do now, while we're here, to make it better for everyone else in the future? They always say that history repeats itself. I don't know, maybe we should get rid of that cliché. And stop using it as a scapegoat.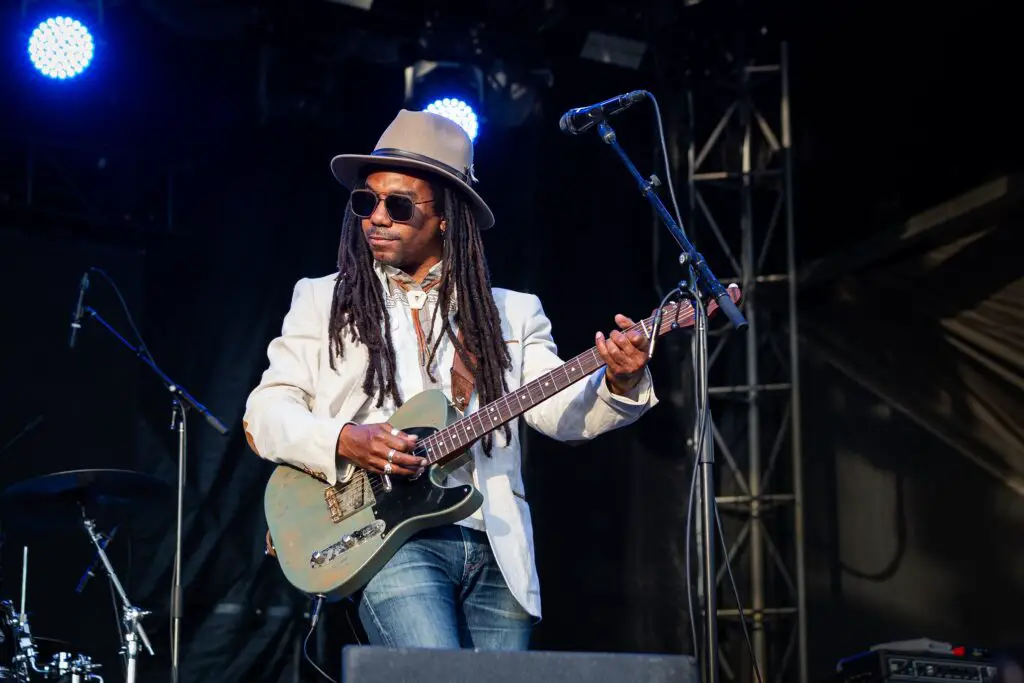 AJOMT – Recently you did a couple of European tours. Was there any noteworthy "road trip" experience when you were over there?
Julian – Oh, man, when I toured Europe, I did it with my buddy Paul. It was just me and Paul, kind of like the Willie Nelson song. We took 17 trains to get to our shows, it was an acoustic tour, the first time I went over there in the winter. 17 trains in six days to get to six destinations across Europe the cheapest as we possibly could. And man, did we ever lift a lot. It was three suitcases, two carry-on bags, and a guitar case. And we're travelling all around, running up stairs, catching elevators, going to train stations, missing trains. And in Hamburg, we had to get three trains to get there, exhausted we show up at the hotel. And they're like: "you're on the fourth floor." So I went "great! That doesn't sound too bad. Where is the lift?" And the concierge is just like: "it's an old hotel, there's no lift." So we had to carry all of that stuff that we have with us up four flights of stairs, and get this, a flight is two flights. So back and forth, it's a double staircase. So it was literally the eighth floor! After all of that, then I had to go play the gig! I was so exhausted and joked with my buddy Paul that we should start like an actual physical fitness programme of how to tour Europe on trains. I was ripped when I got off that trip. But it was the double flights of stairs on the fourth floor. That was just a little… at that time, all you could do was laugh. And you just laugh with your pal all the way up because it's insane.
A big thank you to Julian Taylor, and his publicist Bev Kreller, for making the arrangements to speak with us.