And the biggest musical acts on Twitter in 2019 were…
Everyone is doing the year-end thing now, including Twitter.
According to their new summary, #ThisHappen in 2019, these were the top musical acts on the platform over the last 12 months.
BTS (@BTS_twt)
Ariana Grande (@arianagrande)
Drake (@drake)
Rihanna (@Rhianna)
Cardi B (@iamcardib)
Justin Bieber (@justinbieber)
Beyonce (@Beyonce)
Kanye West (@kanyewest)
Billie Eilish (@billieeilish)
Lady Gaga (@ladygaga)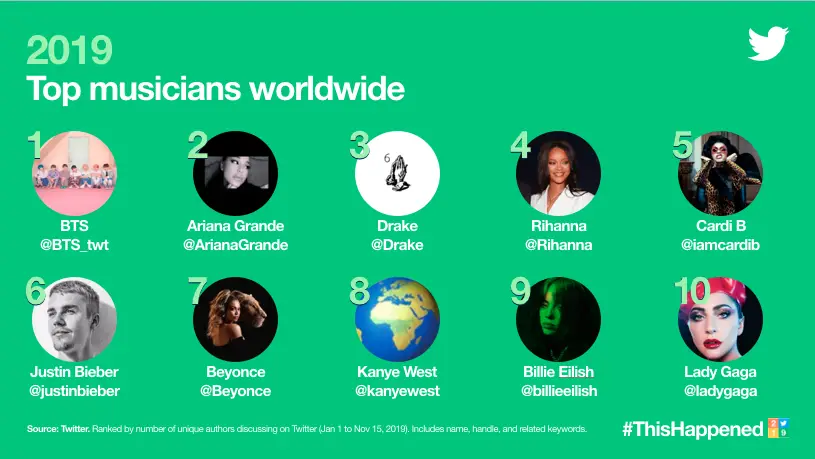 Now let's concentrate on just Canada:
SOLO ARTISTS
Shawn Mendes (@ShawnMendes)
Justin Bieber (@JustinBieber)
Drake (@Drake)
Sebastian Javier (@sebtsb)
Alessia Cara (@alessiacara)
The Weeknd (@TheWeeknd)
Avril Lavigne (@AvrilLavigne)
Johnny Orlando (@JohnnyOrlando)
Tory Lanez (@ToryLanez)
Celine Dion (@CelineDion)
BANDS OR DUOS
Zeds Dead (@ZedsDead)
Nickelback (@Nickelback)
Tegan and Sara (@teganandsara)
Arkells (@ArkellsMusic)
Loud Luxury (@LoudLuxury)
Marianas Trench (@mtrench)
Sum 41 (@Sum41)
PUP (@puptheband)
Simple Plan (@simpleplan)
DVSN (@DVSN)
There's a lot more in the way of Twitter global 2019 stats here and more about Canada here.