And the Celebrity Most Likely to be Incorrectly Reported Dead on Twitter Is…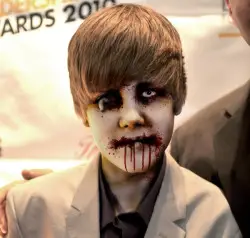 No, not yet. Stand down.…Justin Bieber. Although given (a) his huge Twitter following; and (b) his antics, that's not much of a surprise.
Synthesio is an analytics company that montiors social media across 100 country and fifty languages. One of the things they love to track are #RIP tags.  By sorting through all the data, they've determined the top I'm-not-dead-yet celebrities are:
1. Justin Bieber
2. Zayn Malik (One Direction)
3. Rihanna
4. Chris Brown
Strange how Morgan Freeman wasn't in the top three, innit?
(Via USA Today)