And the First Show by the Reunited Guns 'N Roses Will Be Held…NOT at Coachella
When the rumours of a Guns 'N Roses reunion really started swirling last summer, someone said to me, "You know that the first show is going to be in Las Vegas, right?"
"Las Vegas? Why?" This was interesting. We were in Vegas for a Rush show. This guy seemed to be plugged in.
"New arena. It's the brand new T-Mobile Arena on the Strip. Having them play their first show at the new venue is a big part of the negotiations."
Huh. But when the Coachella announcement came, I completely forgot about the Vegas rumour. But it turns out it wasn't a rumour at all. That guy I met in Vegas was spot-on. Here's the press release: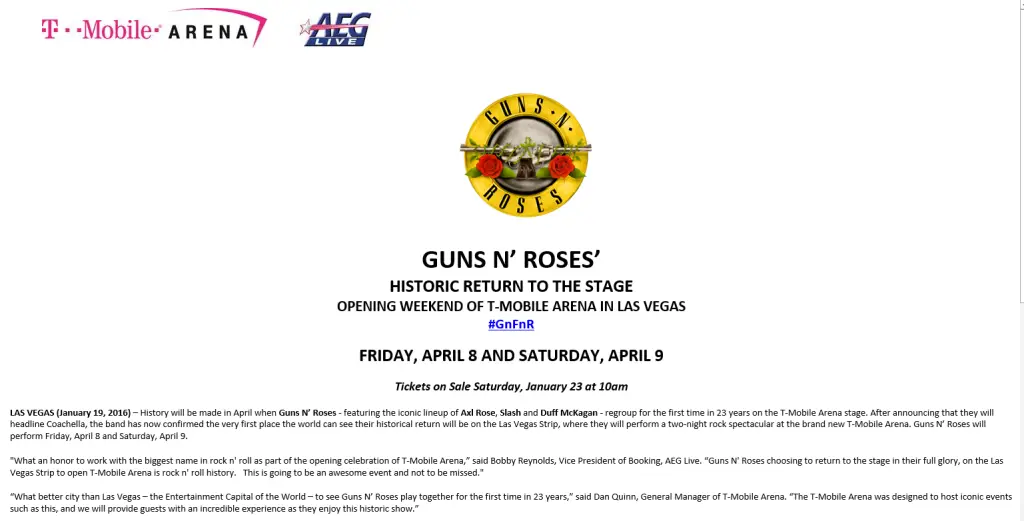 So it's Vegas a week before Coachella. This should be a zoo. Tickets start at $80 US and go up from there, including "exclusive VIP Experiences and Packages," which will include reserved seats (good ones, of course), autographed swag, preshow VIP parties, backstage tours, exclusive merch and more. How much? Hey, if you have to ask…
Still, I'm underwhelmed at this Gunners reunion. Just Axl, Slash and Duff? No Izzy?  No Matt or Steve? Doesn't feel right.