And the nominees for the 2022 Rock and Roll Hall of Fame are…
The Rock and Roll Hall of Fame released the nominees for consideration for induction for 2022. Thoughts?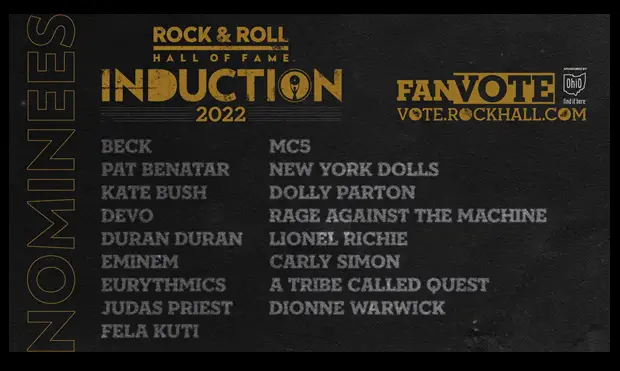 The Hall lost me forever a couple of years ago when Whitney Houston somehow made it in. While this year's list has some solid inclusions, there are again some weird outliers. When Lionel Ritchie was at his peak, he was the antithesis of rock. And Dionne Warwick? That's what my parents were listening to when I was blasting Led Zeppelin in the basement.
These are the first nominations for Carly Simon, Dolly Parton, Lionel Ritchie, Eminem, A Tribe Called Quest, Beck, and Duran Duran. Everyone else has already been nominated and not voted in.
No one is asking me, but if I were in charge, I'd go with Beck, Pat Benatar, Kate Bush, Devo, Duran Duran, Eminem, Judas Priest, MC5, NY Dolls, and Rage. (Can I even pick that many?) I also wouldn't complain if Dolly Parton got in because…well, I just like her. Not rock, obviously, but Dolly is cool.
If you want to get in on the fan voting, it's open now. You have until April 29th. The top five will be revealed in May. (Note that out of all the millions of fans that will vote, their collection opinion will count for exactly ONE vote for that artist up against the ~900 people on the Rock Hall committee.)
Anyway, it's nice to see that some of these snubs might be corrected.