Anonymous Is Fighting ISIS with…RickRolls?
Anonymous, the shadowy decentralized hacktivist organization, has launched a war on ISIS/ISIL/Da'esh using its combined formidable cyber-warrior powers, a tactic that could turn out to be more disruptive than any bombing campaign.
ISIS' ideology may be very 7th century, but their methods can be very modern. Using social networks, websites and encrypted email, it communicates with its members, plots attacks and recruits impressionable misguided young men and women. Disrupt their Internet access, the thinking goes, and disrupt ISIS.
This annoys some members of the intelligence community because if there's an interruption in ISIS communications, it's an interruption of any kind of monitoring and surveillance. Still, if ISIS can't talk to its members, they can't do more insane things. Anonymous says they've been successful at shutting down more than 5,000 ISIS-affiliated accounts.
So how is Anonymous screwing with ISIS? By spamming verified ISIS hashtags with rickrolls.
That's right. Rick Astley has been weaponized in the fight against terrorism.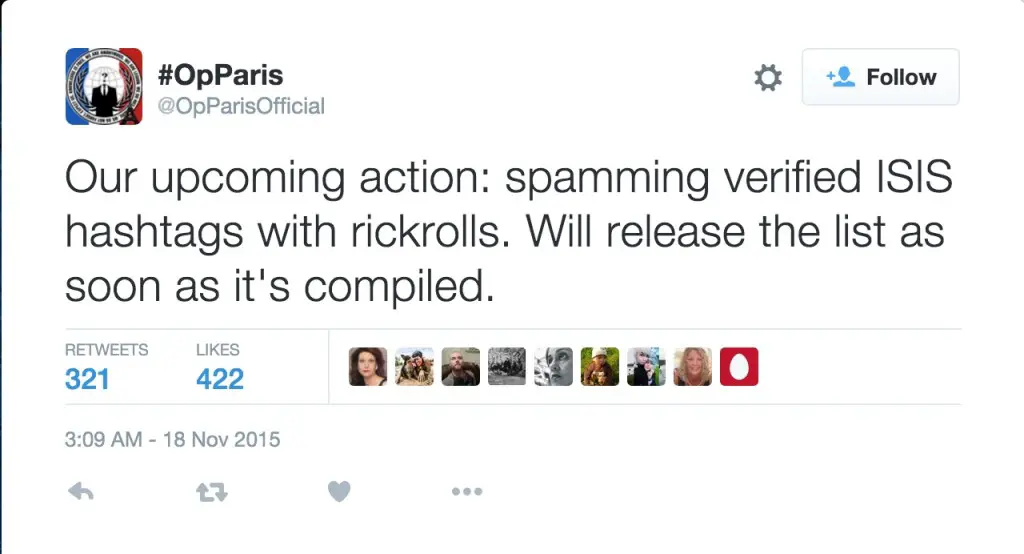 Using the same tactics that have been used against unsuspecting citizens since rickrolling became a thing thanks to 4chan in 2007, Anonymous is pissing off Islamist psychopaths everywhere.
And before you ask, no, Rick isn't seeing a cent from this campaign. As far as I know, YouTube doesn't pay out unless a song runs for at least 30 seconds. And what are the chances of anyone listening to "Never Gonna Give You Up" for more than five?
But take heart, Rick. You're on the side of the good guys. Thank you for your service.
(Thanks to Tom for the link.)