Another Artist Is Looking for Your Faith and Investment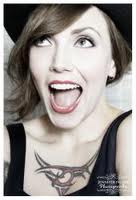 Back in 2001, Marillion turned the financing of new albums upside down. Instead of going cap in hand to a record label for an advance, they went directly to their fans. Get the faithful to put up the capital and then deliver an album to the investers. It worked rather well.
We've been hearing a lot of this sort of thing lately, the most notbale being Amanda Palmer's $1 million plus Kickstarter campaign. And yes, Kickstarter seems to be the most popular mechanism for raising money from fans.
But there's also Pledge Music, home to fundraiser campaigns by Ben Folds, Luscious Jackson and Bruce Foxton of The Jam. Billy the Kid, a spunky Canadian singer-songwriter that I really like, is going this route. Here's her story:
Hi.

I'm gonna be candidly real here for a second.

A pretty incredible opportunity has come my way and it occurred to me to see if you would help.

With the help of your pre-orders and some guerilla, DIY, street level ninja-style backup, I could be in the studio with my recording hero this summer.

I don't think I need to tell those of you who know me (even a little) what a dream come true working with Jamie Candiloro would be. Jamie is someone I couldn't have imagined actually working with and now, I'm in the position to do just that.

Jamie worked on such albums as Easy Tiger, Follow the Lights, Rock N Roll and III/IV by Ryan Adams and Songbird by Willie Nelson. He was also a part of recordings done by R.E.M. Courtney Love, Luscious Jackson, the Eagles, Ed Kowalczyk (of Live), Jesse Malin and Spacehog.

With your help I will be able to spend three weeks in a Los Angeles studio with Jamie. I predict some incredible recordings will be the result.

Thank You Very Many,

Billy

If you'd like to lend here a hand, here's the link.