Another Music Cybercrime Has Been Perpetrated and Anonymous' Victim is Dionne Warwick. Wait–What?
If I had to bet which artist on the planet might be subject to an Anonymous attack, the last person I'd expect would be Dionne Warwick. Why pick on her? She's an innocuous pop star of the past and has serious, serious money troubles. Yet here's what appeared at her official website (It's www.dionnewarwick.us, but I'm not going to link to it just in case there's something malevolent there).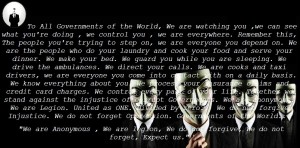 It's a bit hard to read, so here's what it says:
To All Governments of the World, We are watching you ,we can see what you're doing , we control you , we are everywhere. Remember this, The people you're trying to step on, we are everyone you depend on. We are the people who do your laundry and cook your food and serve your dinner. We make your bed. We guard you while you are sleeping. We drive the ambulances. We direct your calls. We are cooks and taxi drivers, we are everyone you come into contact with on a daily basis. We know everything about you. We process your insurance claims and credit card charges. We control every part of your life. Together we stand against the injustice of corrupt Governments. We are anonymous. We are Legion. United as ONE. Divided by zero.. We do not forgive Injustice. We do not forget Oppression. Governments of the World…
"We are Anonymous , We are legion, We do not forgive, We do not forget, Expect us."
Cyber-Terrorist, 0x Omar, Black, Rose, w7sH.SyRiA, Tactician, Tiger Mate
Zer02Zer0, EgyS3p,Risk.Rock,Volcano,AlTinToP,MaMaDo_Sniper
First Madonna was hacked by some guy in Israel.  Now this. Poor Dionne.