Another Must-Read for Artists Serious About the Music Biz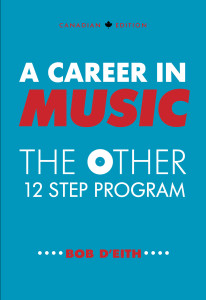 I've been invited back to work as an instructor/mentor at The Peak Performance Boot Camp, a hardcore artist education effort that happens each summer at an isolated outpost in the BC Rockies.  Artists have to compete for the right to attend–and the successul ones are worked very, very hard over the course of a week.
The boot camp is faciliated by Music BC, headed up by Bob D'Eith, a tireless supporter of emerging artists in that part of the country.  He's just published an ebook entitled A Career in Music: The Other 12-Step Program.  
 Like Coalition Entertainment's Artist Entrepreneurship program (read about that here), Bob's book focuses on things all artists must do–and from a Canadian perspective, too.
If you're hoping to make a career out of music, this book could be the difference between getting it right and flaming out.