Another Rock Star Death: The Eagles' Glenn Frey, Dead at 67
Glenn Frey, a co-founder of the Eagles and the lead voice on so many of their hits, was not well. He'd been suffering from ulcerative colitis for years and had taken a turn for the worse in recent months. Back in November, the Eagles were to be feted with a Kenney Centre Honour, but the band begged off, saying that one of their members was ill and required surgery.
Today (January 18), the Eagles announced that Frey had died, a combination of intestinal problems, rheumatoid arthritis (another inflammatory disease) and pneumonia. The announcement was made via the band's Facebook page.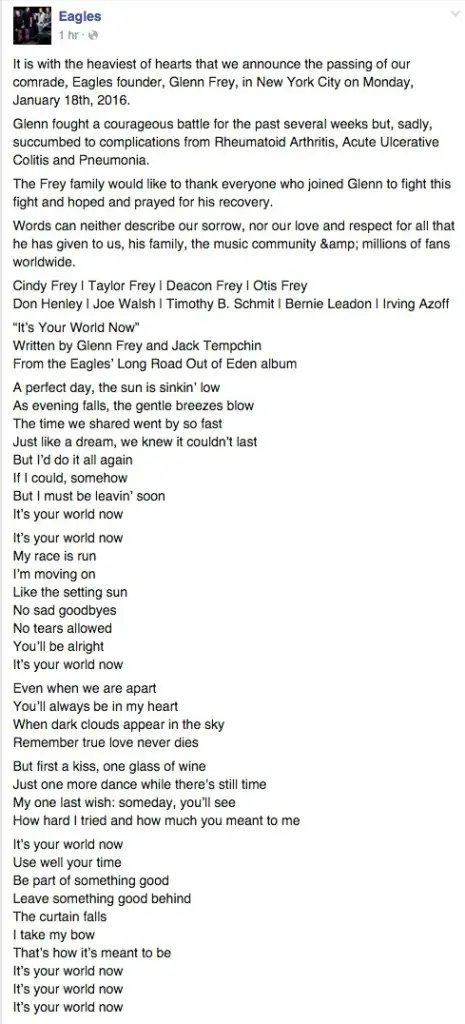 Frey, along with Don Henley was one of the two main lead vocalists with the Eagles, singing "Take It Easy," "Tequila Sunrise," "New Kid in Town," "Heartache Tonight" and so many more. And if you look at The Eagles' Greatest Hits, Vol. 1–a record that has sold beyond 30 million copies–Frey figured in the writing of seven of the ten songs.
Here's a statement from Don Henley:
He was like a brother to me; we were family, and like most families, there was some dysfunction. But, the bond we forged 45 years ago was never broken, even during the 14 years that the Eagles were dissolved. We were two young men who made the pilgrimage to Los Angeles with the same dream: to make our mark in the music industry — and with perseverance, a deep love of music, our alliance with other great musicians and our manager, Irving Azoff, we built something that has lasted longer than anyone could have dreamed. But, Glenn was the one who started it all. He was the spark plug, the man with the plan. He had an encyclopedic knowledge of popular music and a work ethic that wouldn't quit. He was funny, bullheaded, mercurial, generous, deeply talented and driven. He loved is wife and kids more than anything. We are all in a state of shock, disbelief and profound sorrow. We brought our two-year 'History of the Eagles Tour' to a triumphant close at the end of July and now he is gone. I'm not sure I believe in fate, but I know that crossing paths with Glenn Lewis Frey in 1970 changed my life forever, and it eventually had an impact on the lives of millions of other people all over the planet. It will be very strange going forward in a world without him in it. But, I will be grateful, every day, that he was in my life. Rest in peace, my brother. You did what you set out to do, and then some.
More coverage can be found here: