Another Soundgarden Box Set Coming Next Month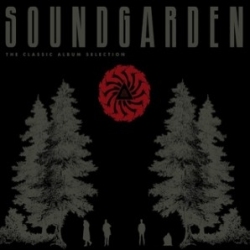 There's still no new album, but at least Soundgarden fans are benefitting from a thorough cleaning of the SG vaults.
The band has announced The Classic Album Selection, a box set made up of the original recordings made in the A&M days. That inclues Louder Than Love, Badmotorfinger, Superunknown and Down on the Upside. And as a bonus, they'll throw in last year's live record that was recorded back in 1996.
Each album will be presented as a set of mini-LPs in gatefold sleeves with new artwork.  I assume that there will be bonus material, but to be honest, I haven't read anything about that.
Look for this box to show up May 22.