Another Yonge Street Record Store is About to Bite the Dust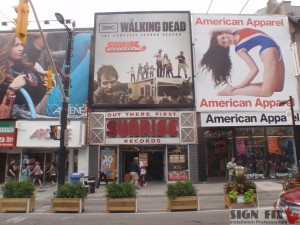 There was a time when the stretch of Yonge Street from Queen in the south to Gerrard in the north offered the best selection of records and CDs almost anywhere in the world. And because the stores were so tightly packed together, prices were very, very competitive.
Among the smaller stores there was Tower, A&A, HMV, Sam the Record Man, Music World and Sunrise. Of that lot, only HMV and Sunrise remain. And soon, Sunrise will disappear, too.
New came down this morning that Sunrise will shut down operations at their flagship Toronto store by sometime in mid-November, a casualty of falling physical music sales and high rents. Owner and co-founder Malcolm Perlman: "It is a very sad time, having to close the stores on Yonge. Unfortunately, rent on Yonge Street has become too prohibitive to be able to profitably operate stores there."
The Sunrise at 336 Yonge has been there since 1986. The company also operates stores throughout Southern Ontario, all of which will be sold. The goal is to find a new owner who might be able to revitalize the chain.