Why Would Anyone Get This Sick Rock Tattoo?
There's a certain sick part of society that's fascinated by evil people.  Luca Magnotta, the guy accused of chopping up a lover, keeps getting fan mail, love letters and offers of marriage.  A 25 year-old twinkie plans to marry Charles Manson. And despite pleading guilty to a series of horrific sexual crimes (for the "mega lolz"), ex-Lostprophets singer Ian Watkins has his fans.
This photo was posted on Reddit.  Some moron took Watkins mug shot and turned it into a tattoo complete with his MEGA LOLZ catchphrase? What's wrong with people?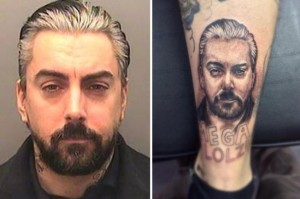 (Via The Sun)