Anyone Remember the PMRC?
If you wander through a record store, you still might come across one of these:
This is a relic of the work of the Parents Resource Music Group–the PMRC–the group of busybody Washington wives who wanted to clean up music of the good of the children. They even had their own chart of greatest hits.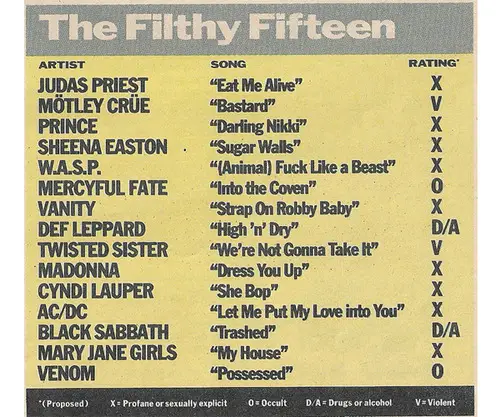 Rolling Stones looks back at that sanity which reached its height 30 years ago.
This week marks the 30th anniversary of the United States Senate's so-called "porn-rock" hearing, in which Frank Zappa, John Denver and Twisted Sister's Dee Snider protested proposed measures that would require record labels to "rate" albums like movies. The issue had been raised earlier in 1985 by an activist group called the Parents Music Resource Center (PMRC), which was founded by the spouses of four influential people in Washington, D.C.
Although she was not the group's president, Tipper Gore, wife of then-Senator and eventual Vice President Al Gore, became its most famous and outspoken member. Her interest in labeling record covers had arisen when her 11-year-old daughter bought Prince's Purple Rain and played "Darling Nikki," a song that references masturbation, on the home stereo. After forming the PMRC, the group's advocacy prompted labels to put "Parental Advisory" stickers on albums, and Tipper would publish the 1987 book Raising PG Kids in an X-Rated Society. Rolling Stone reached out to her for a statement on how the PMRC's advocacy has affected society.
Continue reading.  (All via Tom)