Apple finally puts the iPod out of its misery
In the fog that followed the 9/11 attacks, Steve Jobs gathered some journalists in Cupertino to show off a new product. "It's called iPod," he said. The date was October 23, 2001.
It's impossible to understate this little device's impact on music, tech, and the way we listen to music. It wasn't the first digital music player, but it was light-years away from the garbage units that had come before. Soon, everyone wanted one, especially after it was adapted for Windows users the following summer.
Nearly 500 million iPods have been sold since then across a range of models: Classics (six generations), Minis (two), Nanos (seven), Shuffles (4), and Touches (7). We went from clickwheels that physically turned to a seamless digital scroll on a touchscreen. At one point, iPod had a 90% share of the US market for hard-drive-based music players and 70% of all players (which includes cassette players and portable CD players).
The device also put Apple on the trajectory of becoming a US$2 trillion company. Selling Macs was fine, but the iPod turbocharged everything within the company and with consumers, leading to the iPhone (essentially a Touch without a phone) and the iPad. For many (like me), the iPod was a gateway drug that sucked me into the whole Apple ecosystem.
And who can forget those brilliant commercials?
But tech marches on. Once the iPhone took off after its introduction in 2007, it was only a matter of time before the iPod was cannibalized into extinction. All models slowly faded away.
The original model died in 2014. On July 27, 2016, the Nano and Shuffle were removed from the lineup, leaving just the seventh-gen Touch was left, which got its last update on May 28, 2019. Meanwhile, Apple had long stopped making the iPod a line item in its quarterly reports. How many units were being sold? Too few to bother telling anyone.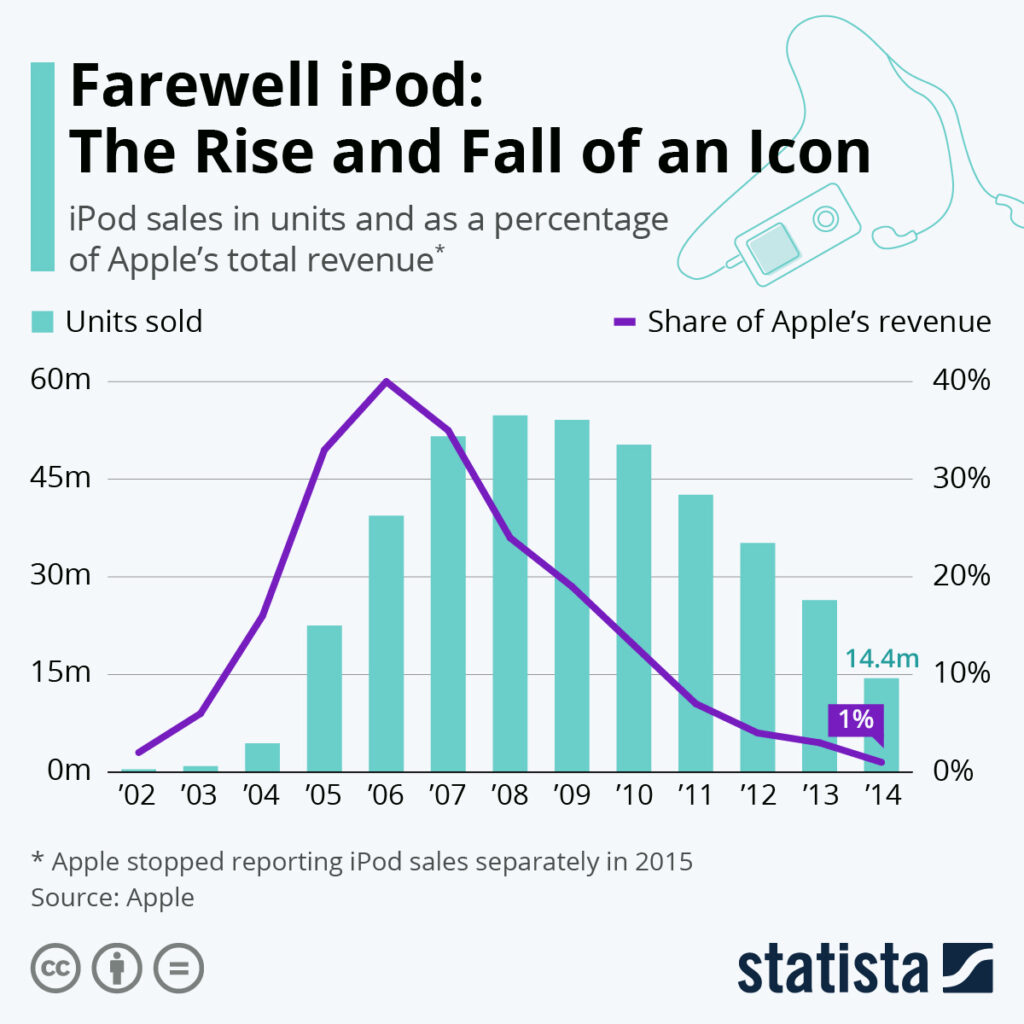 Yesterday (May 10, 2022), after a little more than 20 years, the iPod era came to an end. Apple announced that once the current supply of Touches is sold out, that's it.
Here's a quote from Greg Joswiak, Apple's senior VP of worldwide marketing: "Music has always been part of our core at Apple, and bringing it to hundreds of millions of users in the way iPod did impacted more than just the music industry — it also redefined how music is discovered, listened to, and shared. Today, the spirit of iPod lives on [in the iPhone and Watch].
Hey, 20 years is a long time for a piece of tech to survive. The iPod did its job. Time to move on. But hey, don't throw any old devices away. You know how things work: They'll eventually become collectors' items. Maybe.