Apple Granted Trademark for the Beatles' Apple Corps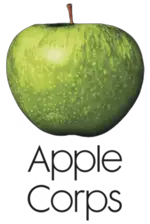 This Apple now property of Apple, Inc.Apple and the Beatles have engaged in an on-again off-again war over the name "Apple." The Beatles got there first in 1968, but Apple Computers moved into the territory in 1976. There was a truce in 1981 when Apple Computers promised not to enter the music arena–and we all know how that turned out.
The fight continued from 2001 through to 2007 when Apple (Steve's company) took all control of all trademarks having to do with all things "Apple." It cost them $500 million USD.
As of this week, Apple (Steve's company) officially owns the granny smith apple logo, the one that Apple Corps (John, Paul, Ringo and George) used for their record labels.
Somewhere in this story is a lesson. I just don't know what it is.
(Via Patently Apple)