Apple Introduces "Do Not Disturb While Driving Mode" on iPhones with iOS 11
I love it. About time.
It drives me nuts when I'm driving madly to get somewhere and the person I'm supposed to meet texts me "Where R U?" Because I'm a responsible driver, I resist the urge to pick up my phone to tap out a reply. When I finally get to my destination, that person is pissed that I didn't respond.
"I was DRIVING, moron. Couldn't you figure that out? Why didn't you just call me?"
"I guess I could have. But I never make calls. I just text. That's what everyone does now."
Many times I wished my iPhone would use its built-in accelerometer to determine when it's moving above a specified speed. At that point, the phone should realize that I'm probably in a car and that a "do not disturb" message should be set up for all incoming texts. Maybe even emails, too.  And yes, there should be an override in case I'm a passenger or a bus or trains. Otherwise, the phone should let everyone know that I can't respond.
Apple has heard these prayers. At WWDC yesterday, the company revealed iOS 11 which comes with a "Do Not Disturb While Driving" safety feature. No alerts on the screen, no sounds.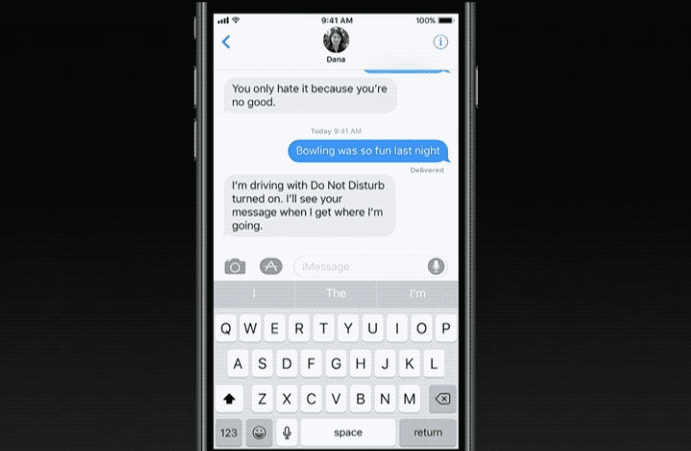 And if you try to pick up your phone, you'll see nothing but a blank screen. Any texts that come in will be met with an auto-reply. And yes, it comes with an override and a whitelist feature that lets specific people get through with an URGENT notification. Then you can pull over and safely reply.
More on iOS 11 here. A summary of Apple's announcements at WWDC here.