Apple Music Launches Tuesday and There's Still So Much to Discuss
Apple finally gets into the streaming music game on Tuesday with the simultaneous launch of Apple Music in 100 countries. By the end of the 90 day trial period, how many people will have opted in?  Remember that Apple has 800 million credit card accounts through iTunes. And once iOS 8.4 is released any second now, all iOS devices will be inviting users to sign up with a couple of clicks. So how many people will take the bait?  Ten million? Fifty? A hundred?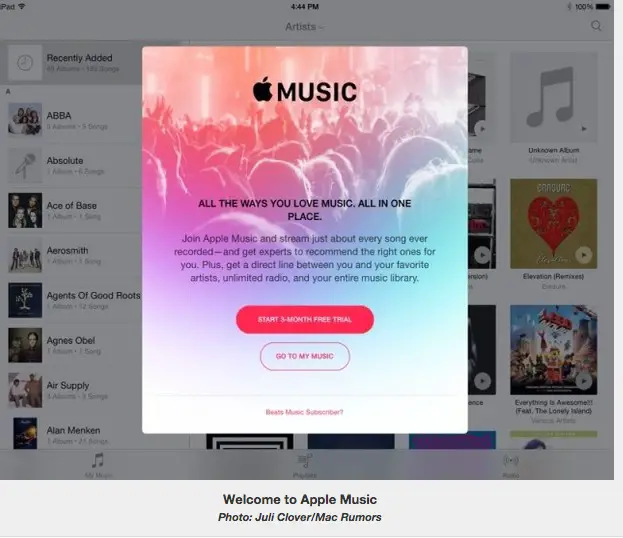 And how will Beats 1 fair? Is there a demand for Zane Lowe's "global radio station?" (I've heard Trent Reznor was part of that idea, too).
Let's start with some additional analysis from Stratechery:
Jimmy Iovine spared no words when it came to his opinion of algorithms during the unveiling of Apple Music:
The only song that matters as much as the song you're listening to right now is the one that follows this. Picture this: you're in a special moment…and the next song comes on…BZZZZZ Buzzkill! It probably happened because it was programmed by an algorithm alone. Algorithms alone can't do that emotional task. You need a human touch. And that's why at Apple Music we're going to give you the right song [and] the right playlist at the right moment all on demand.
About Beats 1, the new Apple Music radio station, Iovine added:
[It] plays music not based on research, not based on genre, not based on drum beats, only music that is great and feels great. A station that only has one master: music itself.
According the Apple Music website "Zane Lowe and his handpicked team of renowned DJs create an eclectic mix of the latest and best in music"; then again, if you keep scrolling the page, you're reminded there is more to Beats 1 than curated music:
Building your own station couldn't be easier. Just select any song, album, or artist and it will practically build itself. Adjust the mix to hear more songs you know or discover unfamiliar gems. Love a track? We'll play more like it. The more you fine-tune the station, the more personalized it becomes.
That sounds a bit like an algorithm. So which is more important, and why?
Read more here.
Moving on, what could Apple Music mean for the music industry?  From Re/Code:
In the past few years, it has become glaringly obvious the economics of streaming music was not favorable toward artists. Interestingly, I recall the same thing being said when Apple first launched the iTunes Store, as the music industry pundits feared the move would make it easier for people to only buy the song(s) they wanted versus the whole album. They felt it was better for everyone to sell a $9.99 album versus just one song for 99 cents.
In case you don't know the economics of the music industry, it is generally pretty ugly for most artists. Unless you are a largely successful artist, your cut of sales can range between 10 percent and 25 percent, depending on how well you negotiated your contract. (Those were the common percentages 15 years ago, when I did work in the music industry. It's doubtful that much has changed)
Labels simply act as investors. They generally offer artists money up front as part of the deal, and then agree on a percentage of all sales. The label puts up the money to record the album, market it and, during the analog era, distribute it to retail. There is a science to this, and it works.
But the sales revenues are not just split between the label and the artist. Often there are licensing costs, costs to a songwriter, publisher, and a range of other costs built into revenue share. That 99 cents spent on one song can often be split anywhere from five to seven ways. This is an intricate mess, but ask any expert on the music business and they will tell you where artists really make their money is on performances and concerts. From getting discovered, signed, cutting an album, getting your album in retail, into circulation on the radio, promoted on TV or the Web, it all leads to one desired end goal for the artist's financial interests — performing live.
Read on here.
I'm planning to sign up as soon as a I can so I give the whole thing a good shakedown. Let's see how this works.