Is Apple Planning to Kill the iTunes Music Store by 2019?
At one point, Apple's iTunes music store accounted for 70% of all online music sales. That, however, was in the days before streaming took off.
While Apple doesn't break out revenues for iTunes, weekly sales tabulated by companies like Nielsen SoundScan and Buzz Angle point out that sales of digital albums are falling catastrophically. This year alone, sales of digital tracks and albums are down by more than 20% from where they were at this time last year–and last year was horrible, too.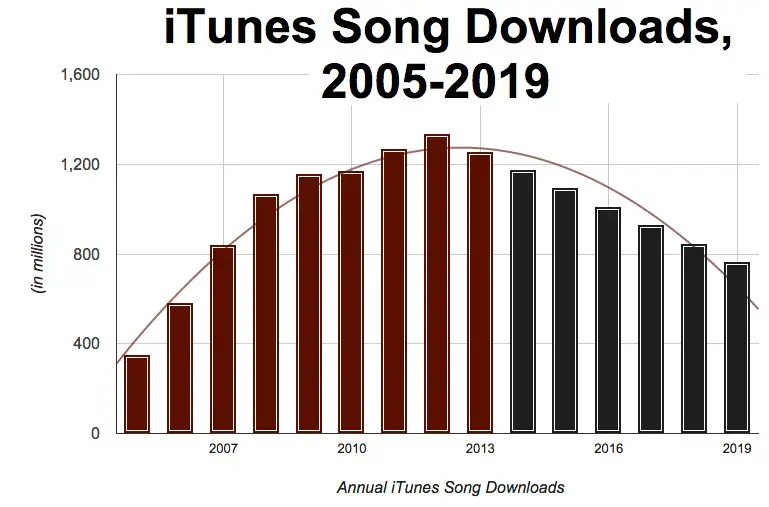 This begs the question: With the world moving more and more towards a streaming model, how long will Apple continue to offer digital sales through iTunes? The company certainly would like to get more people paying $10 a month for Apple Music, too. Would killing iTunes help Apple catch Spotify?
This is from Digital Music News:
Apple is aggressively scheduling a phase-out of music downloads from the iTunes Store, according to multiple sources tied into the platform or working at the company itself.  The termination has been in motion since 2016, when sources first tipped the story to Digital Music News.
At that stage, the plan was to sunset music downloads 'within 2 years'.  Now, plummeting download sales may be creating pressure to make good on that aggressive schedule.  "More and more, [downloads] are legacy," one source told DMN over the weekend.  "That part is obvious."
Read the rest of the story here.
If this is true–and officially, Apple continues to deny any plans to sunset the iTunes Music Store–I have some big concerns.
The loss of a digital download store would be a huge loss for people who prefer to own music over access to it. Streaming is great for auditioning music or material we'd consider to be evanescent or disposable, but terrible for those who want to have access to a song/album anytime, anywhere in exchange for a one-time purchase fee.
Streaming pays out a whole lot less to artists and digital sales.
Guys like me depend on access to digital files for creating things like radio shows. A huge percentage of all the music you hear on my Ongoing History of New Music show is purchased via iTunes. If the store goes down, it will create a major production issue for me. Where am I going to get my music? It's illegal to stream rip, right?
9to5Mac has this response to the story:
While the source describes that transition method as "clever," it's worth pointing out that users who have resisted transitioning to Apple Music on their own have likely resisted for a reason. Apple automatically signing everyone up for Apple Music would almost certainly not go over smoothly.
This report should be taken with a massive grain of salt, especially considering Apple's continued denials. Furthermore, there are still artists who resist the idea of streaming music on a broad scale, which makes licensing and obtaining rights harder for Apple.
We'll have to watch the situation carefully.