April 10 Will Now Forever Be Known as "Nirvana Day"
Well, in Hoquiam, Washington, anyway.
Wait.  Where?
Hoquiam is part of Greys Harbor County and is about four miles from Aberdeen, Washington, the hometown of Kurt Cobain and Krist Novoselic.  Kurt lived there for a very short period of time growing up, which is good enough for the mayor.
Jack Durney told local radio station KXRO  "[Kurt Cobain] and Krist Novoselic are part of our community, and I think it's good to honor our sons and their great accomplishments."
There's been no comment from the good people of Aberdeen, although given that they've long laid claim to Nirvana, they're probably a little pissed.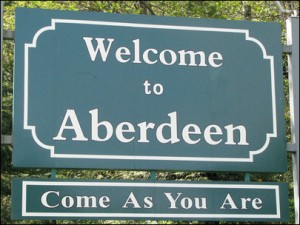 (Via Consequence of Sound)