Are Outdoor Music Festivals in Trouble?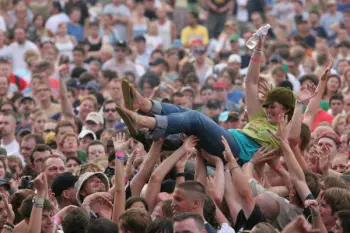 Given that Coachella sold out at record speed and that people are already talking about Glastonbury 2013, I'd offer up a hearty "no."
But all is not well in the festival world.
Glastonbury's Michael Eavis thinks that his festival's days may be numbered because of rising expenses.
The Big Day Out event in Australia this month saw its lowest attendance in years.
In Britain, something like 30 festivals–including some that had been around for decades–have gone bankrupt.
What's going on? I have some theories:
Oversupply. A quick look at the back of any British music magazine will reveal dozens and dozens of festivals throughout the UK and Europe. How many such events can a country/continent sustain during the few short weeks of summer?
Costs. With so many festivfals, organizers not only have to compete for fans but for acts. Prices for talent goes up meaning either (a) higher ticket prices; or (b) thinner margins. And if there's bad weather or bad luck, those profit margins can instantly turn into massive losses.
Insurance. Last year was a bad one for the outdoor concert industry. Stage collapses in Ottawa and Indianapolis. Weather-related deaths at a festival in Belgium. There's no way premiums aren't going to rise.
Burn out. Many people will say that the best festivals are the ones with a relaxed, almost hippie vibe. But that has given away to slickly produced events with tons of sponsors screaming BUY ME TRY ME SIGN UP. Could it be that music fans are turning their back on this kind of targetted marketing?
The "festival tourist." Hardcore festival-goers are a special lot, the kind of people for whom bad weather, dysentry and bad drugs are all proudly worn as battle scars But in the UK and Europe, they've been finding their turf invaded by dabblers and wannabes. When there are too many of them, the hardcore move on.
These questions and more are raised in an article in The Independent.