Are There Now Too Many Music Streaming Services?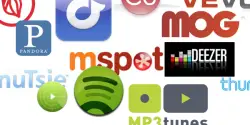 A collage of streaming services. Click the image to learn more.Here in Canada we have Rdio, Slacker and Deezer with other slated to launch later this year. In the US, they also have Pandora, Spotify, Rhapsody, MOG and a few others. And Apple, Google and Amazon are all looking to get into the streaming game.
That's a lot. Frankly, all anyone needs is one such service–two at the most. (I have more, but it's my job…) How many streaming services do we really need?
This article suggests that we're already oversaturated. I'd disagree.
Yes, too much choice offers the risks of consumers getting confused. And yes, economics dictates that not all these services will survive; the marketplace probably won't be able to support all of them. (We7, a UK service, has already gone away.) However, the vast number of these companies is helpful in that it exposes the public to what they have to offer.
Consumer options brings awareness. Competition breeds innovation. Innovation equals a better consumer experience. It's technological Darwinism.
If you're intrigued by the options and benefits of subscribing to a service, shop around. You, as a music fan, are clearly in the driver's seat.