Arson Suspect Claims "Marilyn Manson Made Me Do It!"
It's been a while since Marilyn Manson has been blamed for any evil doings, so this is probably overdue.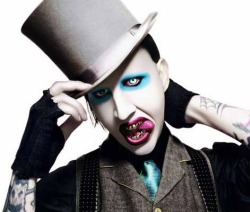 Christina Paz, 29, of El Paso, Texas, allegedly set fire to her childhoold home because messages contained within Marilyn Manson and Nine Inch Nails songs told her to do it.  From the El Paso Times:
[Court documents] stated that Paz told investigators "she was angry at her mom and dad for trying to kill her on Christmas Day, that they had planned to sodomize her and chop her up with the help of a neighbor."
An investigator asked Paz how she knew her parents wanted to kill her "and she said through the music of Marilyn Manson and Nine Inch Nails."
Paz, according to the affidavit, told investigators she wanted to burn the house to get back at her parents. On Dec. 27, she allegedly poured flammable super glue on a bed, which she then lighted, and then went into another room and set fire to the curtains.
After starting the fires, Paz grabbed her bags, walked outside and waited in the front yard.
The document stated a police officer with the El Paso Independent School District saw smoke coming from the house and arrived before firefighters. The officer saw Paz standing in front of the home. When he turned on his police car's flashing lights, she walked over to him and told him she had burned the house. She was taken into custody.