Is This the Artwork for the New Foos Album?
Could be.  We know, for example, that the album (whatever it's called–Sonic Highways, like Dave's upcoming HBO series, maybe?) was recorded in eight studios in eight different cities across the US.
This painting is a mashup up different city skylines:  Seattle, Chicago, Hollywood, Washington, New York, New Orleans, Nashville and a few others I don't recognize.  And althought that looks like an infinity symbol right in the centre, it could also be an "8."  This album will be the Foos' 8th studio album.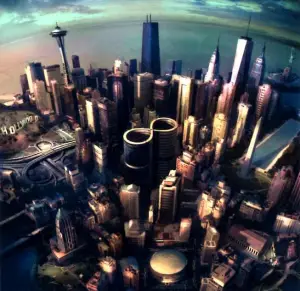 Or it could be a promo shot for the Sonic Highways series.  Or it could be just a very good 'Shopped fake by a zealous fan.  We might find out Monday when the Foos make their "big announcement."
(Via Consequence of Sound)