As Download Sales Drop, The Music Industry Thinks Harder About Music Streaming Services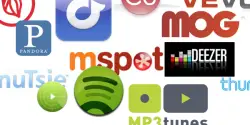 While Canadian sales of digital albums and tracks are still pacing ahead of last year, that's not the case in the US. The number of digital tracks being sold in 'Murica is actually several ticks below where they were at this time in 2012.
As CDs continue their death spiral (down around 15% from last year on both sides of the border), it was hoped that downloads would take up at least some of the slack. That's not happening. If you were a record executive, you'd be crapping yourself, too.
The cause? Streaming music services are the most likely culprit. Why buy tracks one at a time when you can get all the songs you want for about $10 a month?
From the New York Times:
So far this year, 1.01 billion track downloads have been sold in the United States, down 4 percent from the same time last year, according to the tracking service Nielsen SoundScan. Album downloads are up 2 percent, to 91.9 million; combining these results using the industry's standard yardstick of 10 tracks to an album, total digital sales are down almost 1 percent.
After enjoying double-digit growth in the years after Apple opened its iTunes store in 2003, song downloads began to cool several years ago. But the rate of decline this year — weekly sales began to lag in February, and the drop has accelerated rapidly in recent months — has caught the business by surprise.
Music executives and analysts disagree about exactly what is causing this slowdown, but many cite streaming music services like Pandora, Spotify and YouTube as one possible cause. After a decade, consumers may be losing interest in buying downloads and instead turning to the streaming services, which make millions of songs available at the tap of a smartphone app, free or for a few dollars a month.
We Canadians would be well advised to watch this situation. Although we're running a year-over-year sales deficit, too, all our digital sales are on the plus side of the column. However, the numbers next to the plus sign aren't as big as they were last year.
This begs some questions. Will this harden the resolve of the Canadian industry to keep out services like Pandora and Spotify? Will they continue to charge high fees to the companies already in the market (Rdio, Slacker, Deezer, etc.), making it harder for them to turn a profit? Will this slow down the move from consumers possessing music to accessing it?
Just askin'.