Attention Hardcore Fans: Here's an Interview with Winnipeg's Comeback Kid
[Another boots-on-the-ground report from occasional contributor, Andrew Epstein. – AC]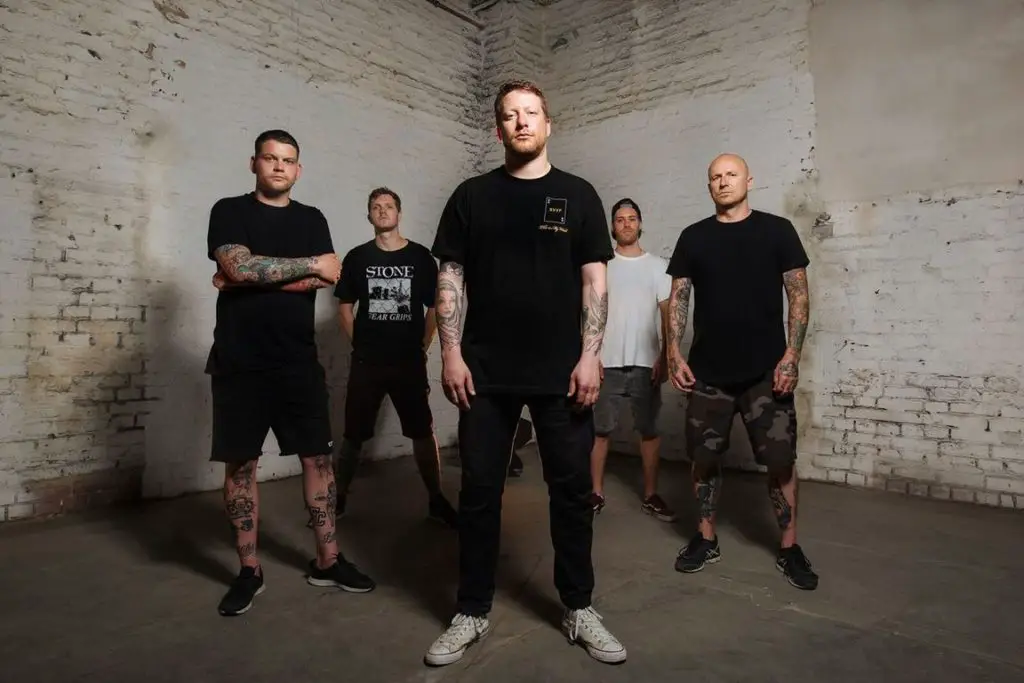 The Winnipeg hardcore squad return with a new album of heaviness and melody.
By Andrew Epstein – www.zombitrol.com
Photo – Alexey Makhov
"I'm always hoping before a record that it's somewhat of a moment," says vocalist/guitarist Andrew Neufeld of Winnipeg punk veterans Comeback Kid. He's referring to the new album Outsider, their first for New Damage and Nuclear Blast. It's a step up in terms of visibility, and having also just kicked off four months of touring, the band could be poised to create the moment Neufeld is talking about.
They found their sound early on by combining thrashy hardcore with melodic chant-along choruses. These days the intensity and the melody seem to be divided. Outsider features punk bangers alongside epically melodic mid-tempo tracks (which Neufeld gigglingly refers to as "soaring").
"I don't feel a lot of rage when I'm writing heavy music" he says cautiously.
"It's 'Oh shit that's an exciting riff!' or "That part's hard!' and it makes me feel the same way I would feel when I listen to a hard hip-hop song. The other guys in my band, Jeremy and Stu, I remember they brought some songs to the table and there was so much double-picking fast stuff going on. I really do love that stuff and it always has a place on Comeback Kid records. But in direct response to that I would write another song that would open up with a light riff and then go into a punk rock-style melodic hardcore song. I would do some of that on purpose. Especially with hardcore, which can be so one-dimensional, if I'm gonna hear the same shit over and over and over, I'm probably gonna change it. I wanted to write a record with a bunch of dynamics because we can kind of get away with that. We're walking that fine line."
That's perhaps been a key to the band's wider appeal. In the early 2000's they were one of the very few hardcore bands who seemed to get some attention and acceptance from outside their scene. They toured with different kinds of heavy bands over the years, diversifying their fanbase. Now pushing towards two decades together, the fans have grown with them.
"I always feel like we started as being that band, like sometimes playing with hardcore bands, or punk bands, or metal bands, we were able to ride that" says Neufeld proudly.
"I even see it more so now. It's nice, I like the variety. It's nice that we can play different kinds of shows and I think people are open to that now. There's so much music at our fingertips now, you're not gonna just stick with one thing… maybe when you're younger."
Their musical diversity also seems to have had some affect on the themes of the new album. Although apparently written without rage, there's a heavy feeling of resentment that inhabits the lyrics of Outsider. It's a change in tone that makes the songs feel less self-referential than the band's older releases. It's not quite clear if Neufeld has crossed over into social commentary on this album, but apparently the vagueness is intentional.
"I kinda like that about it" he says laughing.
"I definitely write songs that are angsty. Dealing with stuff like anxiety and using excess to get over that, that can be a vicious cycle. But also, being 2017 I mean… we've never been a political band but having a little bit of social commentary, it's kind of impossible to ignore."
That kind of yearning to be socially outspoken is something that's written into the DNA of hardcore music. Although it's not necessarily something that fans may immediately associate with Comeback Kid, it's an essential component of their sound and identity. They've found a balance between the desire to create and explore, and their obligations to their musical roots.
"We definitely still take a lot of influence from traditional hardcore and that world. But we're trying to do our thing, and we're trying to do new things, keep it fresh and exciting" says Neufeld.
"I like modern production as well. We're moving with the times. A lot of it is about making music, I'm not gonna lie, that's what I live and die for. But I also really connect with the community of hardcore and that values that it's taught me. We really connect with the culture that our music comes from, and we're thankful that it's got us to where we are now. Again, I'm not that super-angry of a guy, I don't find our music to be angry really. It definitely gets certain emotions up. Sometimes that's what the world needs."
Comeback Kid's new album Outsider is available now. They'll be on tour across Canada for the rest of September, followed by American dates in October, and then Europe for the rest of the year. See all the dates here and check out the video for "Hell of a Scene" below.