Awesome Movie-Inspired Guitars
Who says guitars have to have a prescribed shape? Try telling it to the people who designed these things.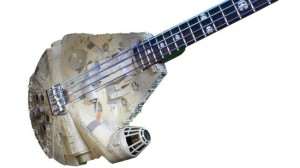 Guitars shaped like Game Boys, cardboard Strats, stringless digital contraptions… we've seen some weird guitars in the past 12 months, but these movie-inspired custom creations from London-based luthier Devil & Sons are equal parts artwork and instrument.
Films including Mad Max, Terminator, Alien and Star Wars have all served as inspiration for artist and musician Daniel Wallis, who runs Devil & Sons and promises plenty more are on their way.
Some of the inventions you'll see are made up of hand-painted sculptures applied to existing guitars, while others use unconventional materials for their bodies.
Check them all out here.