Baby Can't Sleep? Then Break Out the Iron Maiden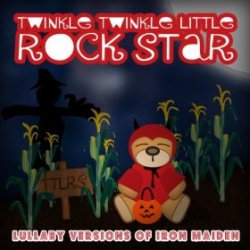 The newest CD in the Twinkle Twinkle Little Rockstar series (another collection of rock songs rearranged for baby in the form of lullabys) has just issued their Iron Maiden edition.
Lullaby Versions of Iron Maiden includes "Run to the Hills," "The Number of the Beast," "2 Minutes to Midnight" and, yes, "Fear of the Dark." Nice one.
The CD joins other discs in the series that feature lullaby versions of songs by Rush, the Smiths, Wilco, Nirvana, Bob Marley, Red Hot Chili Peppers and, inexplicably, two CDs of Lady Gaga songs.
Hey, you're never too young for metal, right? Sample it here.