Band Condiments (No, That's Not a Typo)
Musicians are creative folk and you often find them branching off into different forms. Painting is often an outlet for many as words and music can tell a story and perhaps for some, the actual picture is nice addendum to their style.
Getting into business is also something you see quite often with band members getting involved in all sorts of things. Some open restaurants, others invest in business ventures. Some even try to save the world.
Food is something normally reserved for the riders of bands on tour. For Jonny Hetherington of the band Art of Dying, however, food is it's own reward in creativity. Jonny has his own line gourmet ketchups and hot sauces that sound incredibly creative. Here's the description of his three types of ketchup:
1 Original Ketchup
It's all about tomatoes! We've sourced the very best fresh tomatoes the west coast has to offer. Our Ketchup has a beautifully balanced flavor and is made without preservatives or additives. Pour it on and feel good about what you're eating!
1 Goji Berry Ketchup
Goji Berries are a superfood packed with antioxidants and energy boosting qualities, and we're lucky to have Canada's only grower right here in our own backyard! Our Goji Berry Tomato Ketchup has a unique and tangy flavor with the added bonus of amazing health benefits.
1 Beet Ketchup
We love beets! They are naturally sweet and packed with 'out of the garden' goodness. You'll find yourself craving this amazingly rich Beet and Tomato Ketchup with it's beautiful color and earthy flavor.
Cool right?
It doesn't stop there though! For the low, low price of $6,000.00 US, Jonny would be happy to come cook for you and five of your closest friends!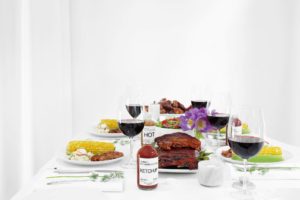 Jonny comes to your place, shops at your local market and hosts a wonderful evening of food, music and celebration with you and your special guests.
Hot Sauce Trios included for all.

Available anywhere in the world!
Jonny will work with you on choosing a date that makes the best sense for you and he'll also develop a custom menu with you for your special night. Let's make this a celebration to remember!
*Alcohol not included
Perhaps the song "Ubuntu" from their 2015 album Rise Up, was a nod towards this side of Jonny. The term ubuntu generally translates as 'humanity towards others'.