Beating the Bot: How Some Artists are Fighting the Good Fight
[Another assignment was given to current intern-in-residence, Dorothy Lee. – AC]
The concert industry has been fighting against scalpers for years. The ticket resale market, worth a reported $8 billion, relies on automated software or "Bots" to snatch hundreds of tickets at once, grabbing 30 to 50 percent of tickets to high-demand shows and re-selling them on sites such as StubHub. Several artists have joined the fight against the bots.
This is a battle that goes back years. In 2008, Nine Inch Nails offered fans a personalized pre-sale on their official website, with limited allotments of "the guaranteed best possible seats". In addition, every pre-sale ticket was personalized with the buyer's legal name printed on the ticket. Tickets were not available in advance via mail, advance pick up or any electronic means but were available for pick up at designated will call box offices at separate entrances during the night of the concert. Fans also required government-issued ID matching the name printed on the ticket to enter the venue, and were required to immediately enter the venue once they had received their ticket. This was meant to prevent people from going back to the parking lot to re-sell the tickets.
Earlier this year, Bruce Springsteen decided to use a new platform on Ticketmaster called Verified Fan. Fans must sign up before tickets go on sale (typically 48 hours in advance) in order to become verified as actual human beings. After evaluating all the e-mails, any that are believed to be connected to scalpers are removed from the list. Ticketmaster then sends out unique codes to individual fans which allow them to purchase tickets during the general public on sale.
In an interview with Amplify, President of Ticketmaster North America Jared Smith explained that having an extra 48 hours prior to the rush during the general on-sale makes a big difference in allowing time to sift through the e-mails and weed out scalpers and Bots. While asking fans to pre-register to purchase tickets is not a new concept, according to Amplify, what differentiates Ticketmaster's Verified Fan is the proprietary technology, information and historical data used to identify scalpers and bots, and block them out. And while it is impossible to completely eliminate scalpers and Bots, Verified Fan has seen successful results in increasing the number of tickets sold directly to real fans and eliminating a number of tickets that make it to secondary ticket sellers.
For Springsteen, the use of Verified Fan was a success also as approximately only three percent of tickets for 'Springsteen on Broadway' made it to secondary market sites. Over 50 other artists, including Foo Fighters and Harry Styles, have used this service since Dead & Company started using it last year, with successful outcomes like Springsteen.
When Taylor Swift announced during the same week of Springsteen's sale that she would be using the service, there was some controversy and criticism, however. For Springsteen, ticket buyers were chosen purely by algorithm whereas Taylor's fans can "boost" their place in line by purchasing merchandise, tweeting, or streaming; and they are informed they will receive the greatest boost by purchasing Swift's new album. Not only that, but apparently fans can purchase the new album up to 13 times to receive further boosts to their spot in line. Note: all of this only guarantees a place in line for the opportunity to buy a ticket and not an actual ticket!
Paperless ticketing (sometimes called Credit Card Entry) has also been used by some artists including Pearl Jam and Adele to fight off scalpers and secondary ticket sellers. This practice requires fans to show their ID and swipe their credit card to enter the venue, however, this practice has been basically banned in New York.
Then there's Eric Church's management office which keeps a "straight-up scalper blacklist" and has staff dedicated to identifying the ticket buying patterns of resellers.
Other examples from previous years where artists attempted to fight off scalpers and the Bots are described below:
On November 22nd 2014, Foo Fighters had a "Beat the Bots" sale in Toronto where fans had the opportunity to buy tickets the old-fashioned way, by lining up outside in the cold to buy tickets in-person at what was then the Molson Amphitheatre box office.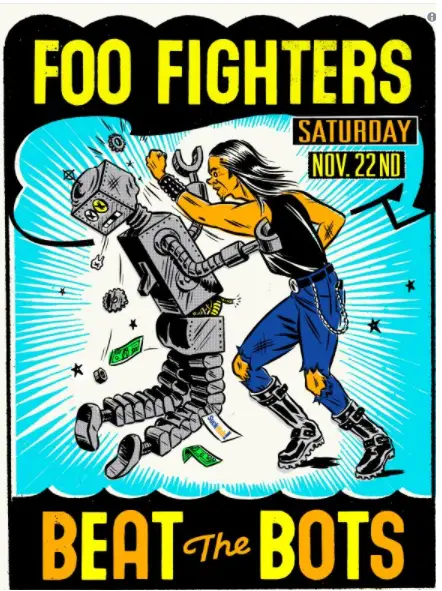 Although the sale didn't begin until 9:00 am that day, many fans lined up earlier for hours. The Foo's "Beat the Bots" sale allowed fans to buy one or two floor tickets or up to four seated tickets, to the show on July 9th 2015 at the Molson Amphitheatre. Tickets were later available for purchase online starting December 1st 2014. Also, approximately 2100 fans lined up for Foo Fighter's Beat the Bots sale in Calgary.
It seems that the fight against scalpers and the bots will never end, but at least we can make strides against eliminating the amount of tickets that make it to secondary ticket sellers.