Beatles Rejected Audition Tape Found!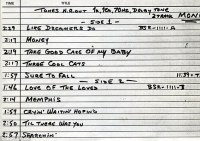 On January 1, 1962, a new band called The Beatles auditioned for a guy named Tony Meehan at Decca Records in London.  They were recorded playing a series of covers that the group had played in the clubs over the last couple of years plus two Lennon-McCartney originals.  Here's the what they did:
"Like Dreamers Do" (Lennon–McCartney)
"Money (That's What I Want)"
"Till There Was You" 
"The Sheik of Araby"
"To Know Her Is to Love Her" (The Phil Spector song)
"Take Good Care of My Baby" (Written by Carole King/and Gerry Goffin)
"Memphis, Tennessee" (A Chuck Berry song) 
"Sure to Fall (In Love with You)" 
"Hello Little Girl" (Lennon–McCartney)
"Three Cool Cats" (Leiber/Stoller)
"Crying, Waiting, Hoping" (Buddy Holly, a favourite of John Lennon)
"Love of the Loved" (Lennon–McCartney)
"September in the Rain" 
"Bésame Mucho" 
"Searchin'" (Leiber/Stoller)
That same day, Meehan also listened to a band called The Tremeloes.  Later, he got together with producer Mike Smith and Decca talent scout, Dick Rowe.  "Which of these two bands should we sign?" he asked.
After some debate, it was decided to go with the Tremeloes.  Why?  "Guitar groups are on their way out," said Rowe.
Fortunately, a producer of comedy records over at EMI named George Martin heard the demo and thought he'd take a chance on the group.  Good move.
So what became of the master tape from that January 1, 1962 session?  Shouldn't it be amongst the most valuable of all Beatles' artifacts?