Back in 1990, Perry Farrell had dog that would go nuts every time Jane's Addiction guitarist Dave Navarro would play a certain riff.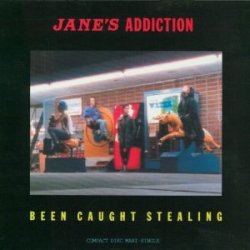 The dog would kind of freak out, barking and yelping along with the music. It just so happens that the dog was in the studio one day when someone joked that the dog should be enlisted to do some of the vocals.
Perry thought that was a great idea—so he took the dog into the voice booth while Dave started playing that guitar riff. An engineer had the tape rolling and got a good sample—and when it came for the final mix of the song, Perry made sure that the dog got in there.
And that's how there came to be barking on "Been Caught Stealin'.