Behold photos from an actual live concert: Amos the Transparent
[Until we're all vaccinated and it's safe to go to concerts, we have to live music experiences vicariously. Neat, a venue in Burnstown, Ontario, outside of Ottawa, is one of the few places equipped to offer socially-distanced concerts. Ross MacDonald is our correspondent. – AC]
Although there were many restrictions still in place due to the COVID-19 pandemic, the band worked through them delivering a polished performance. One challenge that singer Jonathan Chandler noticed was that the large plexiglass barrier acted like a mirror, making it extremely difficult to see the audience. However, Jonathan is a consummate frontman in his interactions with the crowd, telling stories and joking about how challenging band rehearsals are now.
A big band produces a big sound. That was certainly the case at Neat Coffee Shop in Burnstown on Saturday night as Ottawa favourites Amos The Transparent took the stage. Their music is layered with not only the traditional guitars, bass, and drums; but also keyboards and a cello. These sounds shine when transitioning between varying tempos and volume.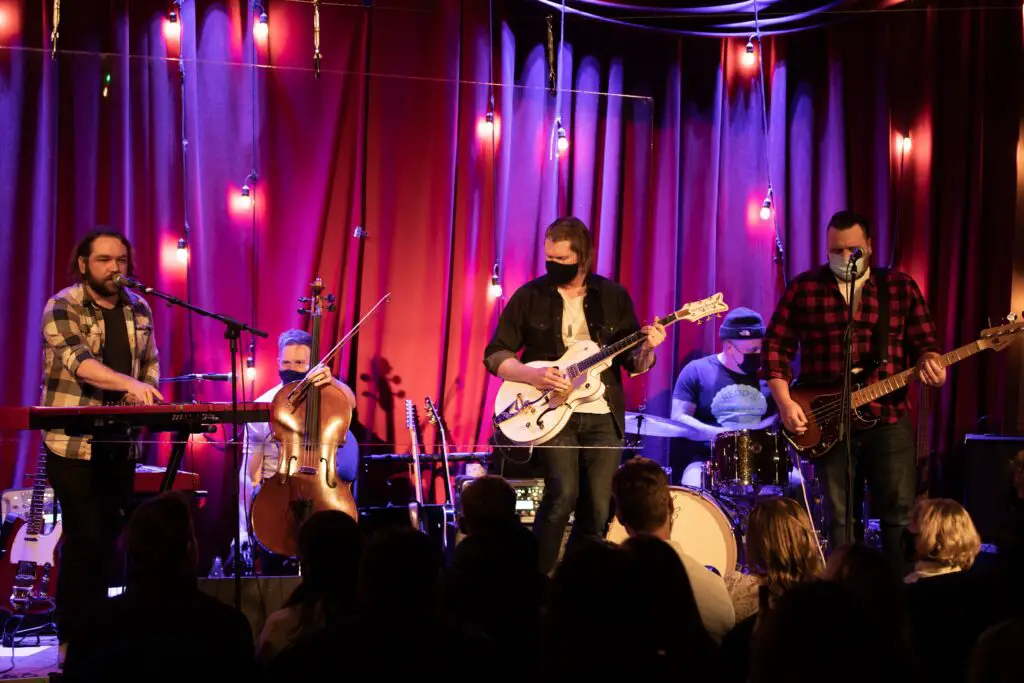 The band did play their very powerful version on "You Oughta Know" as well as showcasing their new single "You Shit From Your Mouth." Midway through the show, fellow local Ottawa folk artist Jim Bryson joined Amos The Transparent on stage for a couple of songs, fitting in with perfect harmonies.
I read that the band name is a persona or alter-ego for you. Where did Amos the Transparent come from? Anything to do with Tori Amos?
Jon: No. I guess this story never really got out. I was into musical theatre and movies. The movie Chicago came out and I identified with John C. Reilley's character, Amos Hart, who had a line: "Mr. Cellophane shoulda been my name, Mr. Cellophane, 'cause you can look right through me, walk right by me and never know I'm there."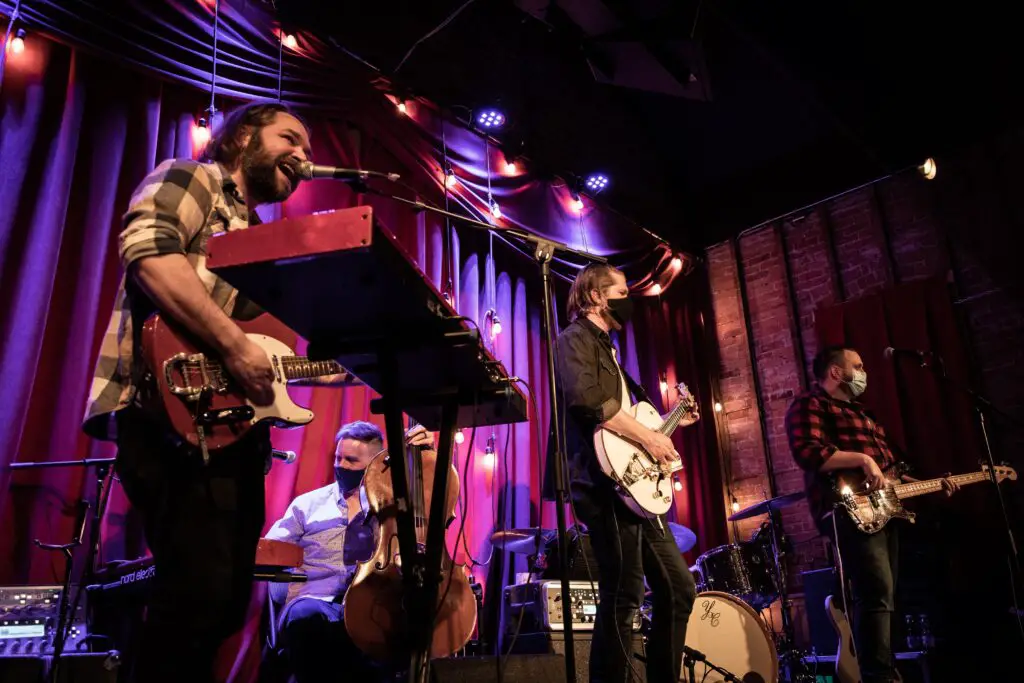 What is the band's creative process?
Jon: Early on I was pretty militant on being the songwriter, I controlled everything. Since the album This Cold Escape I have brought a skeleton and the band builds on it.
You covered an Alanis Morisette song, "You Oughta Know." Was that for an event and did you work with her?
Jon: Back in 2008 Alanis was inducted into the Canadian Music Industry Hall of Fame. The CBC approached us to cover "You Oughta Know." Our version is much slower and melancholy, like a breakup."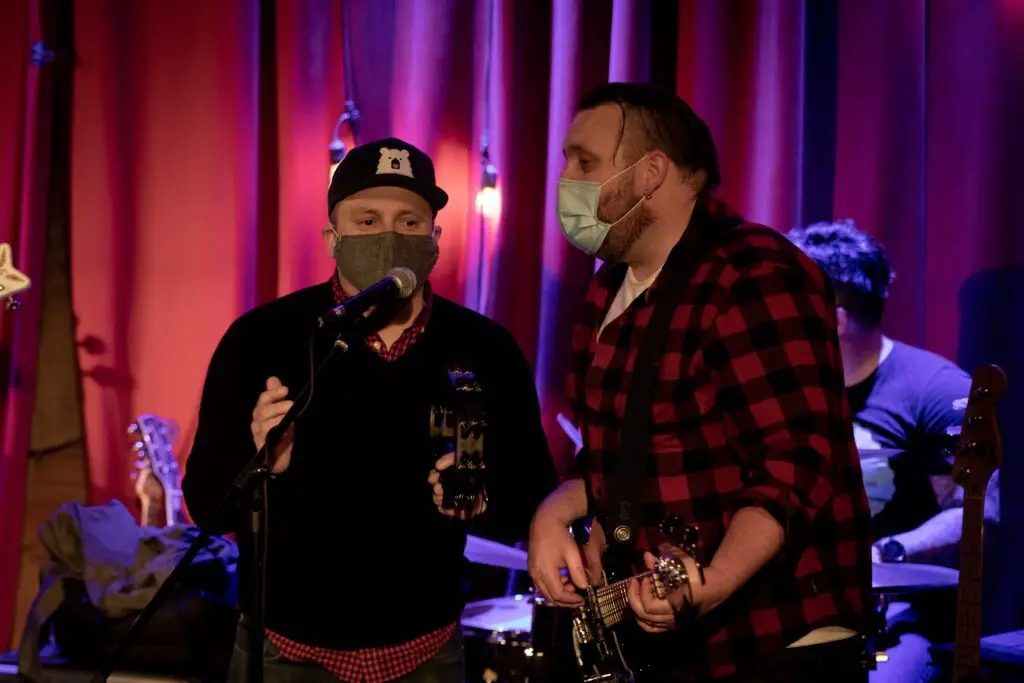 With a larger band comes a fuller sound with many layers. Are you often compared to acts like the Strumbellas or Arcade Fire in that respect?
Jon: Ten years ago, when we were putting together the album This Cold Escape we wanted to add something. We brought in Mike with his cello."
Mike: Yes, I played a few shows, then a few more, and now it is ten years and they can't get rid of me.
Your video for "Sure As The Weather" was quite creative, are you flattered that other groups like Walk Off The Earth use similar stylings?
Jon: We worked with film producer Gavin Michael Booth and shot it in Windsor at his studio.
Chris: It was a long day, 11 hours in the studio. The video was shot in one take with assistants handing us instruments and props.
James: Someone was like "here, hold this lollipop."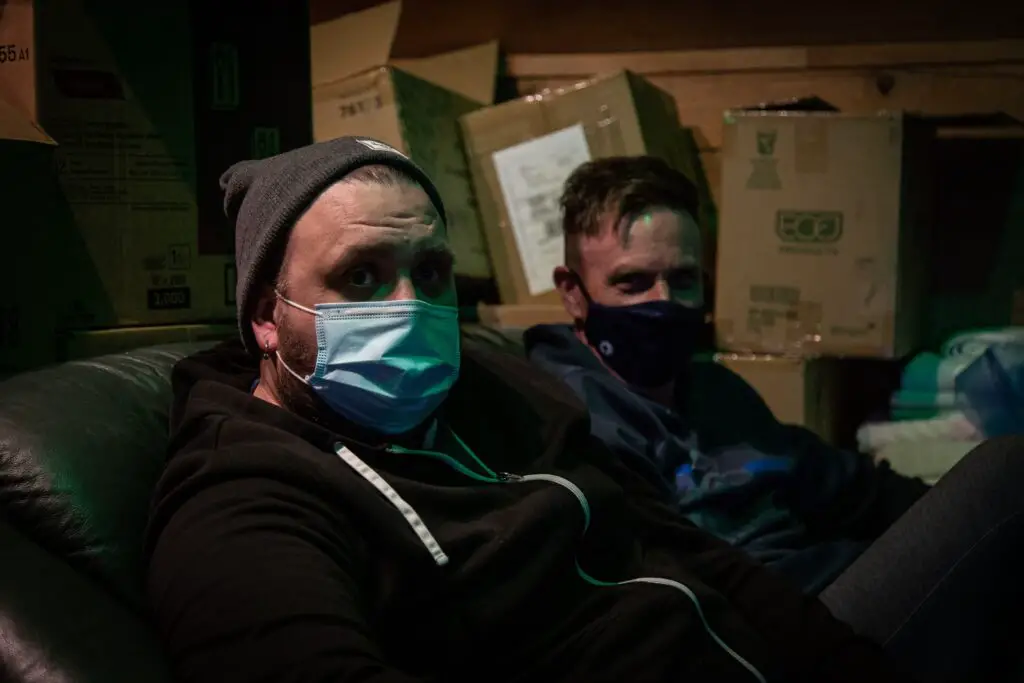 You write beautiful alternative/folk music, but do you have any guilty pleasures or surprises on your playlist?
James: I love post-punk and pop-punk. (Note: those are NOT guilty pleasures.)
Dan: I listen to hair metal, but I don't think that there is such a thing as a guilty pleasure, just enjoy what you like.
How many bands have a beer named after them? Is Amos Anniversaries Pilsner still available?
Chris: We have had a very good relationship with Big Rig and we wanted to do something together. Brewmaster Lon Ladell and Chris Phillips were super-supportive. It was a limited run.
You put out the album Anniversaries in 2018 ahead of a summer tour of music festivals, including Ottawa Bluesfest. With the pandemic-imposed restriction on touring, do you have new material?
Jon: We took a bit of a break. We did a project covering several of Alanis Morisette's songs. And we just completed a new song that we'll be playing for the first time tonight: "You Shit From Your Mouth." I never thought I'd write a song with the word "shit" in the title, and I never thought that I'd write a political song. But here we are. We are just a bunch of friends who get to play gigs together!
Amos The Transparent played Neat for over two hours, culminating in an encore with their powerful hit song Says The Spark. The only question on everyone's mind was: "when is your next show?"
Lineup:
Jonathan Chandler: vocals, guitar, keys
Christopher Wilson: drums
Dan Hay: guitar
James Nicol: bass, vocals
Mike Yates: cello, keys, vocals
Olenka Reshitnyk chose to sit out the show