Behold! Tragically Hip Wine! (Oh, And I've Got a Special Hip Radio Show Coming Up)
Rock stars love wine.  Geddy Lee, Jim Cuddy and Tom Cochrane are all victims of oenophlia,  Dave Matthews, Maynard James Keenan and Mick Fleetwood own vineyards. And AC/DC, Motorhead and a dozen others have their own vintages. We can now add the Tragically Hip this list.
Introducing The Tragically Hip Grand Reserve Red – Fully Completely.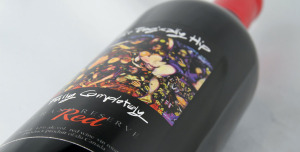 I quote:
Robust, full bodied red blend of Cabernet Sauvignon, Cabernet Franc, and Merlot with aromas of black currant, cherry, baking spice, and tobacco. Aromatics carry onto the palate, with a silky mouth feel and extended finish.
This wine was co-created by band members Gord Downie, Paul Langlois, Rob Baker, Gord Sinclair, and Johnny Fay in conjunction with Stoney Ridge Head Winemaker Jeff Hundertmark. It is an ultra-premium blend of Cabernet Sauvignon, Merlot and Cabernet Franc from the acclaimed 2012 vintage and is a traditional Bordeaux-style reserve red.
The bottle features an exact replication of the original artwork that first appeared on the Fully Completely album cover.
They'll ship anywhere in Canada for $25/bottle plus taxes and shipping. Since I'm a sucker for anything Bordeaux-ish, I've ordered a case.
And speaking of Fully Completely, a terrific deluxe reissue will hit the stores next week. Since I wrote the liner notes for this one, I've also turned it into an episode of The Ongoing History of New Music. It's a very deep dive–a fully, completely one–into the making of the album. I had access to the Hip's archives (you wouldn't believe all the stuff they've saved!) and help from the band's Rob Baker. We'll hear him on the show talking about the album's artwork, the story behind "50 Mission Cap," how the album was recorded and a cool story about "Wheat Kings."  Oh, and there's a brand new Hip song in the mix called "Radio Show."
You'll be able to hear that show on the following stations this weekend: