Beirut Blues – The Wanton Bishops
You may not have heard of The Wanton Bishops but you soon will. From their perch in Beirut, Lebanon, they are bringing fresh influences to the Blues and bringing their unique sound out to the world. That includes a new movie about their time in the American South premiering today on Red Bull TV. I was lucky enough to get a few minutes from Nader to answer a few questions. That interview is below.
Here's a little background from their bio:
Nader and Eddy met in a bar in their hometown of Beirut, Lebanon. Well, technically, they met outside of a bar, in the middle of a fistfight. Luckily they weren't fighting one another, and their friendship soon developed over cheap tequila and a shared love of stompy blues music and rock and roll. Such was the beginning of The Wanton Bishops – Nader, the very epitome of a howling blues man with classic rock roots, and Eddy, an anglophilic guitarist with a passion for contemporary British and American rock music. Nader's influences ranged from Muddy Waters to the Rolling Stones, and he was creating music that took the listener head first into wailing harmonicas, raw vocals, psychedelic atmospheres and stomping garage-rock riffs. With Eddy's influence, Nader's songs soon emerged from the swamps into a musical landscape currently inhabited by bands like The Black Keys and The White Stripes, yet with an original flavor that was unmistakably a unique animal from a different part of the world.

This is the trailer for their movie (Interview below):
Interview:
From a North American perspective, Beirut and Blues music are not the first things you think about. And yet, after giving it a little perspective, it makes perfect sense. Has there always been a Blues scene there?
There's everything there. Beirut is a culturally confused city. It's the crossroads of the world! Blues, Rock, Punk, Folk… you name it.

What would you say makes Beirut Blues, and for your band specifically, unique?

The oriental context gives it a special exotic flavour, and whole lot of blood! We've been in war for the last three decades, and that gives a certain urgency to music and words.

Are both of you Beirut born and raised? When did you first meet? When did you realise you had some chemistry musically?

I come from the countryside, the land of wine, born and raised. Eddy on the other hand was born in the North but raised in Beirut; he's more of a city boy.
The chemistry between us was immediate. You can tell from a lick or a riff what kinda man you're communicating with on a soulful level.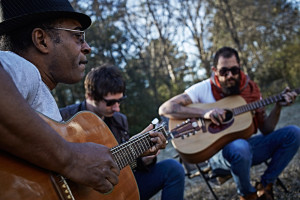 Who are your musical influences? Blues specific? Other music? Lebanon specific?

Very eclectic really. From oriental classics, to Byzantine liturgic chants, to Indian ragas, to African and American blues, British pop…
So you have this film called "Walk It Home" which documents your journey through the U.S., following the Blues trail. When did the concept first get brought up? Was it you? Or was it presented to you?

Well it had always been our dream; the folks at Red Bull Media House, our publishers must've telepathically overheard it. They made a big thing out of it and eventually presented it to us. It didn't take much for us to accept you can imagine.
From a purely logistical perspective, how long was it from concept to stepping on a plane?
That was pretty fast. A couple of months and we were good. Post filming was much more complicated and lengthy.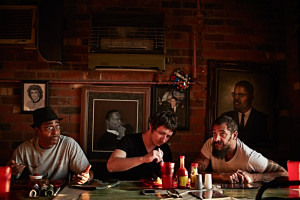 Was there anything that caught you off guard on your journey? Something that really blew your mind? And what about musically?
How spicy sucking a crawfish head was!!! On a more serious note, it was how well we were greeted; it sure felt like home, hence the title.
Do you feel this journey will have a huge impact on your style? Or lyrically? Or do you think it will be more subtle over time?
It's a monumental impact of course, but definitely subtle and over time. I believe this experience will last us years to go.
Did you convince any of the American Blues artists you met to come to Beirut (would make a great sequel!)?
All of them. I was preaching to the choir though. They were already very well informed, excited and interested in visiting. I'm hoping we did a good job showing them a jolly side of our lovely Beirut, something they're not used to see in the news.
What are your plans musically coming up?
A new record already halfway done in LA, recording the second batch in early January. We're very excited to present it to the world.
Thanks to Nader for taking the time! You can find "Walk It Home" here.