Best Buy's Woe Another Blow to the CD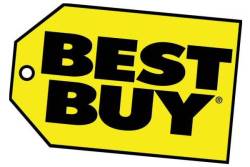 Last Thursday, Best Buy announced that in light of dismal financial performance, fifty of their big box stores will close. This is bad news for the compact disc.
With the decline of chain record stores, big boxes remain one of few bricks-and-mortar retailers that stock and sell CDs. Sure, their selection is very limited and the square footage they devote to CDs shrinks every year, but bottom line is that they still moved physical product.
And unlike Wal-Mart, Best Buy (to the best of my knowledge, anyway) never imposed their family-friendly morality on the discs that they carried. Want the unsanitized version of a CD? Don't even think of looking at Wal-Mart.
In the grand scheme of things, fifty stores isn't that much when you consider the millions of CDs that are still sold every year. But with physical sales in irreversible decline, this isn't going to help, either.
Have you hugged your local record store clerk today?