Is This the Best Music Industry Trophy Ever?
Most awards/trophies handed out at various industry events look pretty much the same.  Either they're some kind of small statue on a base or polyhedral shape made out of Plexiglas.  But not the new SOCAN trophy.
"The SOCAN" will be presented to the Special Achievement Award recipients at the association's 25th anniversary awards event on June 16 in Toronto.  Not only is it a piece of sculpture, but it's also a musical instrument–of sorts, anyway.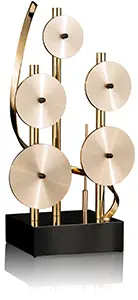 It's make of of five crotales, cymbal-like instruments forged from a centuries-old formula from SABIAN, the Canadian-based offshoot of the Zildjian cymbal dynasty.  The five crotales are tuned to C-G-G-E-C.
Gorgeous, innit?
Read more here.