The Best-Selling Albums in America in 2014 So Far [Spoiler: Things Suck. Hard.]
Wait:  only ONE album has gone platinum in the US this year?  And it's the soundtrack to a freakin' Disney movie?
These are truly dire times for those who depend on the sales of physical music formats.
(Via Billboard)
The more you look at this chart, the more dire the situation.  Five albums have sold more than 500,000 copies in 2014.  A year ago, 11 had reached that level.  And also notice that only 11 of the albums listed were actually released in 2014.  Two (Bruno Mars and Florida Georgia Line) were released in 2012.  And where are the indie albums?
Let's look at the Top 10 selling rock albums and rock tracks in 'Murica.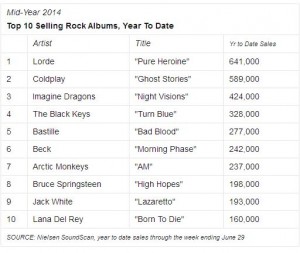 If I can get similar figures for Canada, I'll pass them along.  Meanwhile, here's the mid-year situation in the UK.
01. Coldplay – Ghost Stories
02. Paolo Nutini – Caustic Love
03. Ellie Goulding – Halcyon
04. Paloma Faith – A Perfect Contradiction
05. Sam Smith – In the Lonely Hour
06. Pharrell – G I R L
07. Bastille – Bad Blood
08. London Grammar – If You Wait
09. Beyoncé – Beyoncé
10. Arctic Monkeys – AM
(Via Consequence of Sound)