Big Music Fest is auctioning off this Canadian flag featuring 45 autographs in memory of Gord Downie starting today
The organizers of the Big Music Fest in Kitchener, Mark and Miriam Higgins, had an idea. They got a Canadian flag and musicians sign it for…something. Bryan Adams, Tragically Hip, Blue Rodeo, Arkells, Burton Cummings, Sam Roberts and more than 40 others eventually put pen to flag.
The result is a one-of-a-kind collector's item that will be auctioned away on eBay starting now. Whatever money is raised will be presented to Sunnybrook Hospital in memory of Gord Downie on July 3–specifically The Gord Downie Fund for Brain Cancer Research.
Here's a better look at the flag which measures 31″ x 72″.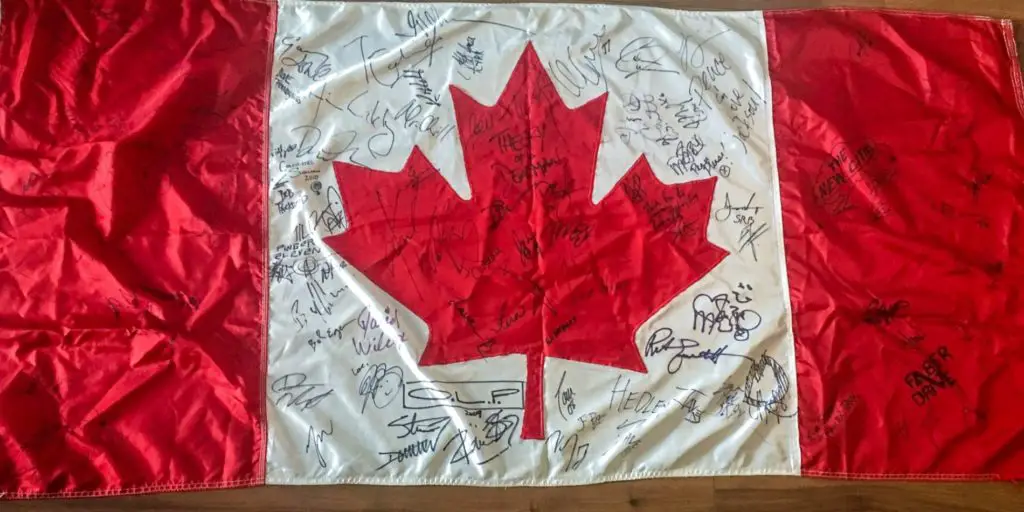 And here's the full list of autographs:
The Tragically Hip
Bryan Adams
Sarah Harmer
Attack in Black
5 Star Trailer Park
The Arkells
Blue Rodeo — Jim Cuddy
Jimmy Bowskill
The Parlor Mob
Gord Downie and the Country of Miracles
Sam Roberts Band
Burton Cummings and Band
Jann Arden
Metric — Joules Scott-Key
Dragonette
Mariana's Trench
Three Days Grace
The Sheepdogs
Hedley
David Wilcox
Kim Mitchell
April Wine
Big Sugar — Mr. Chill
Carly Rae Jepsen
Helix
Our Lady Peace
Theory of a Deadman
Collective Soul
Danny Fernandes
Faber Drive
The Trews
Miss Emily
Finger Eleven
Karl Wolf
The New Cities
Down with Webster
I Mother Earth
Rival Sons
Counting Crows
The Wallflowers
Bleeker Ridge
Red Rider
Jack Soul
Rival
Danny Fernandes
Matthew Good
Faber Drive
The Parlor Mob
Josh Groban
Chantal Kreviazuk