Bing Crosby + Nazis = Silicon Valley and Today's Music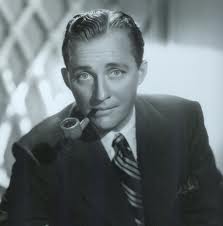 That seems like a ridiculous headline, but stay with me on this.
The New Yorker pulls together what seems to be completely unrelated developments into a very cogent argument that states without Bing Crosby and the Nazis, our technology–and the way we consume music–would be very, very different today.
The nineteen-forties Bing Crosby hit "White Christmas" is a key part of the national emotional regression that occurs every Christmas.
Between Christmases, Crosby is most often remembered as a sometimes-brutal father, thanks to a memoir by his son Gary. Less remarked upon is Crosby's role as a popularizer of jazz, first with Paul Whiteman's orchestra, and later as a collaborator with, disciple to, and champion of Louis Armstrong.
Hardly remarked upon at all is that Crosby, by accident, is a grandfather to the computer hard drive and an angel investor in one of the firms that created Silicon Valley.
If today's youth make up the first digital generation, Crosby's was the first recorded-music generation. Born in 1903, Crosby grew up in Spokane, Washington, where he spent his latter adolescence haunting record stores and learning the drums, and his twenties on the road as a drummer and singer.
He landed in Paul Whiteman's legendary dance band, touring the country. Vaudeville was fading, as was the belting projection of singers like Al Jolson; jazz, talkies, and the radio were ascendant, with Crosby in the wave.