Black Metal Vocalist Murdered by Satanist for Not Really Being a Satanist
There will always be arguments over whether certain performers are "authentic" and "real," terms that can only be identified in the eyes and ears of the beholder.  Having a guy murdered for allegedly being a poseur is taking things a little too far.
Samong Taisattha was the singer in Surrender the Divinity, a Thai black metal band.  They looked like this.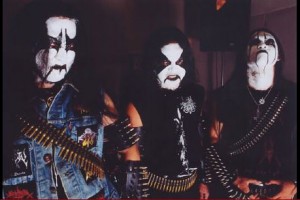 Last Wednesday (January 8), Samong was allegedly murdered by a fan named Prakarn Harnphanbusakorn after some kind of argument.  When Samong's wife went to check on what was going, she found him lying in a pool of blood with at least 30 stab wounds to his body.
Prakarn then posted some photos of the murder on Facebook which have since been taken down–but not before receiving 450 "likes."  Metal Injection posts this quote from Prakarn.
"I have intended to end my life since I was 25. Because I'll die eventually, I want to drag down those who tarnish Satanism with me. But I refrained from killing women and children," he wrote."In my view, I have more respect for devoted Buddhists, Christians and Muslims than those who call themselves Satanists without knowing anything about it," he wrote. "If I did not kill him, I'm sure he would be murdered by someone else later."
The guy is still on the loose.  Thai police are looking for him.  Many more details at The Bangkok Post.