Blogger Declares "Indie Is Dead." I Say "Bullshit."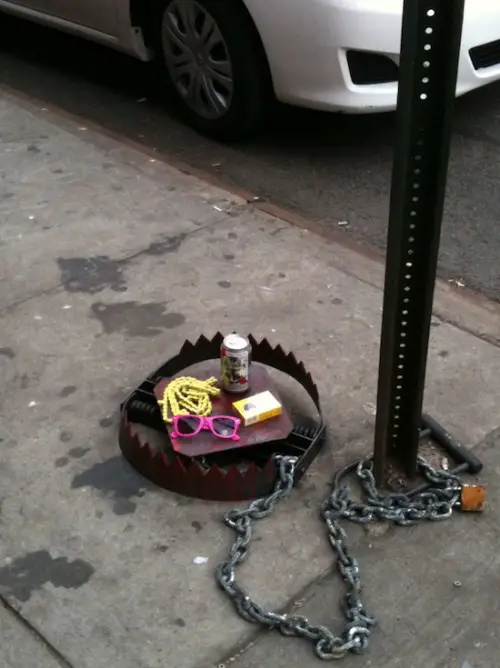 Hipster trapI often have hard time with the blog Hipster Runoff.
Maybe it's the pretentious spelling that's somewhere between an illiterate's text message and the title of a Prince song. Maybe it's the mix of snark and ennui. Or maybe because I can't stand hipsters.
Whatever the case, I can't let this article go without comment. Go ahead and read it first. I'll wait.
* * *
So what did you think? Here's what I took away from it.
1. The buzz and excitement around the indie scene is dead.
2. Bloggers and Lana Del Rey killed it. Too much hype. Anything released today is somehow… inauthentic.
3. The indie scene is corrupt. The wrong people are getting famous. The right people are being ignored.
4. The Good Old Days were 2002 to 2008.
5. It's all over. Music will suck forever more.
Please. This is the same whinging that's heard from every demo as it grows up.
(And yes, I understand that HR is a joke/parody thing, but if this was written with that in mind, it was done badly. Regardless, the points made in the points are still worth comment because I've heard these same complaints expressed with deadly earnestness. Read on.)
One of the most insightful things I've ever read (and I wish I remember where) was this: Every generation has a biological right to believe that the music of their youth is the most important and best music ever made.
There's a special time in our lives–usually from the time we enter high school to the time we leave college and/or get a real job–when music is central to our lives. We have the time and energy to devote to listening to music, looking for music, talking about music and going to gigs. We use music as a way of forming our own identities and projecting that identity to the world. This music leads us to join communities and tribes of like-minded people. It is a time when we absolutely cannot do without music. It is inseparable from our lives.
But then something weird happens. We grow up.
-You can't participate in music this much without acquiring personal preferences, biases and prejudices with what constitutes "good" music. You begin to listen differently, more selectively, more critically. If you don't, then you haven't learned anything about music.
-Our tastes evolve and mutate. If they don't, then something is wrong.
-Life gets in the way. Jobs, families, mortgages, responsibilities. We just don't have as much time to devote to music as we once did. Our participation begins to drop. Passion slips. Interests turn elsewhere. You still love music but it's not the be-all and end-all it once was.
-We start thinking that the music the kids listen to these days is awful and not as good as a few years ago. They have bad taste. They don't listen properly. They're uneducated when it comes to what's "good."
But fear not. All of the above is completely normal.
Early rock'n'rollers lamented that rock died when Elvis went into the army. Hippies whined at the end of the 60s. Punkers saw the end of the world in 1979. Rock sucked in the late 80s. The Alternative Nation declared music dead in the late 90s. And now poor Hipster Runoff states that the Golden Age of Indie is over.
Please. It's just over for you, dude. You've grown bored with music because you've been so deeply immersed in it. What got your motor runnin' no longer produces the required dopamine dump.
Music is a lot like heroin or any other addictive substance. The first taste gives you an incredible feeling that you never, ever want to end. But the more you do it, you need ever-larger fixes to produce that same feeling. Eventually, you're a junkie that's just shooting up to avoid withdrawal systems.
At some point, we all build up certain tolerances–psychological, neurological and psychological tolerances. I hit a wall years ago. But I got around it by expanding my musical horizons. I found new dopamine rushes in new genres and new sounds.
And I'll admit it. When I need musical comfort food, I will retreat to the music of those high school and university years. I will never, ever tire of it.
So dude, quit your self-centered hipster whining. Man up. You're just bored. Go outside and play. Find a new hobby. Get a dog.
And don't worry about rock, indie or otherwise. It'll continue to exist without you. Music is (and always will be) a cyclical self-renewing system. And I guarantee you this: there's an entire cohort of fans right behind you that think that today's indie scene (which, as one commentor points out below is really about independent-minded artists) is the best ever. Like I said, every generation has their right to think so.
And please, dispense with the bullshit grammar and spelling. It just dates you.
PS: I just thought of something. Could it be that you're bored of the indie scene because you and other bloggers inadvertently declared that indie had a certain sound/aesthetic/fashion? If so, then you've got no one to blame but yourself. (See "independent-minded" comment below.)