Bono and His Mission to Eliminate AIDS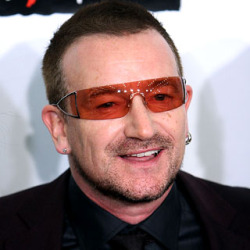 Yesterday was World AIDS Day and as usual, Bono was in the thick of things.  He's increasing his pressure on American legislators to stick with their funding for global AIDS projects.  TIME magazine looks at his fight.
His plea comes at a moment when Washington is embroiled in tensebudget debates over how to avoid the so-called "fiscal cliff" which would trigger automatic spending cuts and tax hikes. Bono showed up in Washington a few weeks after the presidential election to make his case and he didn't just bring star-appeal, he brought data.
His international advocacy organization, The ONE Campaign, recently released a report, warning that despite scientific strides made in combating the pandemic, the United Nation's goal to achieve the "beginning of the end of AIDS by 2015" will fail if funding is cut to AIDS programs.
The report also says financial and political commitment to AIDS efforts from the usual donor countries are varied, with the U.S., U.K. and France leading efforts while Germany, Canada, Japan and Italy lag behind in funding. Bono pushed lawmakers to continue to make AIDS financing a priority. Given the current status, the beginning of the end ofAIDS—defined as when the number of new HIV infections each year is surpassed by the number of people receiving treatment—will not be reached until 2022.