Bono: "Figure of Amusement"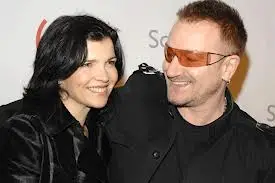 As we all learn in marriage, guys are often a lot more sure of their 'cool' then their wives view them. Usually with very good reason. Bono is no exception.
"When we're leaving for tour, my family is in very good humour which is a real worry because I'm thinking, 'Can't you cry?' My missus has been playing hard to get for quite a while now and she's an elusive character," he revealed to British newspaper The Sun. "She's not easy to get to know and other people's praise holds not much sway for her. She's a very independent, smart kind of girl, who, I think, sees me as a figure of amusement. Most of the time, I enjoy her company."

He has more to say in his interview here.